Real Salt Lake triggers option to purchase Venezuela international Savarino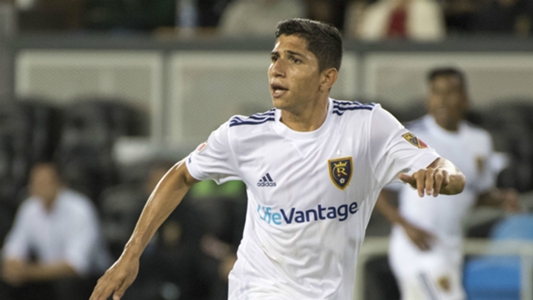 Real Salt Lake has exercised its option to purchase Venezuela international Jefferson Savarino, the MLS side announced Thursday.
Signed on loan from Venezuelan club Zulia in May, the 20-year-old has now joined RSL on a permanent contract. Savarino, who will continue to be classified on RSL's roster as a young designated player, recorded six goals and five assists in 22 MLS appearances this past season.
"It's a huge step in the process we've been going through and a massive commitment from our owner, one which exemplifies where we are in the sport of soccer in the United States but also individually as a club," RSL general manager Craig Waibel said in a news release. "We are in the process of successfully redesigning and redefining who we are, and Jefferson is a huge part of it."
Related
Philadelphia Union release former USMNT veterans Edu and Onyewu
Altidore, Bradley shake off USA boos as Toronto FC wins at Red Bull Arena
Will this be Clint Dempsey's farewell match?
Gulati's No. 2 Cordeiro to run for U.S. Soccer president
The winger made his debut for Venezuela in a 1-1 draw with the United States at RSL's Rio Tinto Stadium in May and was later recalled for World Cup qualifying, though he did not see the field.
"I feel content being here. I'm happy to be here in Utah and I always thank God for being here," Savarino said. "I'm a person who is never content with what I have accomplished. Now it is time to prepare and I will prepare the best that I can during our time off to keep growing as person and as a professional."
Let'