Texas-native Parks signs new Benfica deal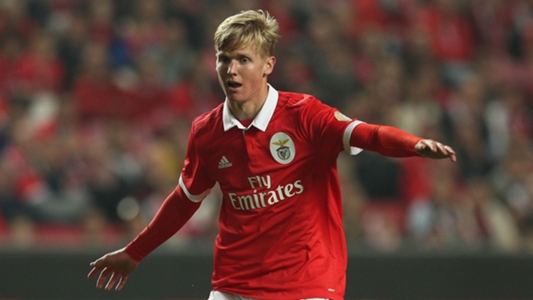 American youngster Keaton Parks has signed a new deal at Benfica to keep him at the club until 2022, the Portuguese giants announced Wednesday.
The 20-year-old Texas native joined Benfica during the summer and has played the majority of the season with the club's B side. However he made his first team debut last month, coming on in a Taca de Portugal match against Vitoria Setubal.
The midfielder has yet to make an appearance in the Portuguese Liga.
Related
Webb satisfied by VAR rollout in MLS but eyeing improvement
The MLS Wrap: Sounders have championship look, MLS Best XI farce and more
Media Microscope: MLS Cup TV coverage to include helicopters and mic'd up coaches
Jozy Altidore says he will be ready for MLS Cup final despite ankle injury
Watch MLS live and On-Demand with fuboTV (7-day free trial)
"I feel great. I'm very excited to start a new journey at Benfica — continue my journey with Benfica — and get my chance in the A team and in the B team as I move forward," Keaton Parks told BenficaTV.
Keaton Parks renova até 2022! Sabe tudo no Site Oficial: https://t.co/8QfnfFPh19pic.twitter.com/4kRZrk2R6l
— SL Benfica (@SLBenfica) December 6, 2017
Parks left the United States after high school and joined Portuguese second-division side Varzim last season. He played in 10 games in the second-division last year, scoring two goals, before leaving to join Benfica this past summer.
"It was a new team. I didn't have a lot of expectations, I didn't know what to expect. But it has been an amazing experience playing with the B team and getting my opportunity with the A team as well. It's been great — training with them every day, playing in the games on the weekend — it's has been good," Parks said.
With the B side this year, Parks has made 11 appearances and also scored two goals.
"All the coaches have helped me a lot. With the B team and players they talk to me a lot, they help me out and I think I've evolved a lot since I've come here to Benfica," Parks said.
With the new deal, Parks knows he will continue with the B side but hopes to parlay that into more chances to play with the first team, saying: "To continue at Benfica, work very hard, and, if everything goes well, have more opportunities in the first team, more minutes in matches and prove myself."
Let'