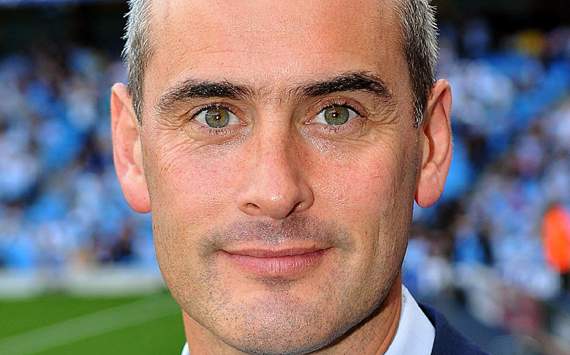 EXCLUSIVE
By Wayne Veysey | Chief Correspondent

Mike Rigg reflects on his part in a rollercoaster four years at Manchester City with a mixture of pride, satisfaction and even disbelief.
"I didn't know what hit me," he says frankly. "None of us did. It was unprecedented. It had never happened before in world football and will never happen again. Not just because of FFP. The closest to it is PSG, but PSG are the only professional club in Paris. Look what Man City were competing with only five miles down the road."
One billion pounds of Abu Dhabi money was spent on transforming City from a team thrashed 8-1 by Middlesbrough on the final day of the 2007-08 season to Premier League champions.
Rigg joined from Blackburn Rovers as head of player acquisition only days before the Middle-East takeover that shook the foundations of world football.
He left three weeks before they won the Premier League to re-join Mark Hughes after accepting the role of technical director at QPR. "I went to Stoke v Bolton on the final day [of the season]. I had done my job, got paid for it, I'm proud of what I did and moved on."
In between, Rigg was at the forefront of some of the most spectacular transfers ever negotiated by an English club, many of which came off, and some – most famously the failed attempt to sign Kaka from AC Milan – that did not.
CITY'S BIGGEST SIGNINGS UNDER RIGG

 SERGIO AGUERO | €45M



The club's record signing, but more than a few City fans would argue he has been worth every penny. A scorer of of great and crucial goals – and none more so than that unforgettable, final-day, injury-time, title-winning strike against QPR.

 

ROBINHO | €43M



Stolen from under the noses of Chelsea on deadline day of the 2008 summer transfer window, the Brazilian showed flashes of his talent without the consistency or industry to endear him to City fans. Failed to settle in England and was offloaded to Milan two years after his arrival.

 

EDIN DZEKO | €37M



Arrived from Wolfsburg in January last year amid much fanfare, but has sparkled only infrequently in England. A four-goal haul against Tottenham last season highlighted his deadly capabilities, but he has never produced regularly enough to hold down a first-team place.

 

CARLOS TEVEZ | €29M



Played a key role in transforming City from Premier League also-rans to title challengers, but his fractious relationship with Roberto Mancini resulted in a six-month exile from the team last season. Returned to propel his side to their first title since 1968, and has begun the new campaign in ominous form.

 

SAMIR NASRI |

€27.5M



Prised away from Arsenal just over a year ago, the Frenchman has often dazzled in combination with Aguero and David Silva. Has yet to show the ability to regularly hurt top defences though, and Silva remains the team's main creative force.
Speaking in an executive lounge overlooking the halfway line at Loftus Road, he tells Goal.com of how the Yaya Toure and Mario Balotelli deals were secured in the same Barcelona hotel on the same day, how his scouting team posed as supporters at team hotels to do their research on targets and why there is nothing routine about signing marquee players in the face of intense competition.
"You think about it," explained Rigg. "When City bought David Silva we weren't even in the Champions League and had to get to him before Barcelona. It is one thing spending money but it is about spending it on the right players at the right time on the ones that would come to you. It was also keeping all the ones that weren't appropriate away.
"People remember the last two years. They conveniently forget that when Tottenham beat City in the penultimate game of the 2009-10 season, they went into the Champions League and City went into the Europa League. We were trying to encourage players to come to join us.
"It wasn't about money. That is one of the most common misconceptions. It was about selling what we were trying to do. Loads of players knocked us back and ended up in big clubs elsewhere."
Rigg's task was to ensure the Abu Dhabi riches were well spent – and not only on the cream at the top.
"My job was to oversee everything to do with player acquisition," he said. "I was involved in every deal from the 13-year-old Joe Hardy we signed from Tranmere right through to Sergio Aguero.
"We didn't just stumble upon Yaya Toure. What we try and do is watch players in different situations – home game, away game, against the top club, against the bottom club, before a big game, after a big game, before a Champions League game.
"I remember going out to watch Barcelona play Deportivo on a Sunday before a Champions League quarter-final on the Wednesday. He was exactly the same against Deportivo. I remember this one part – 10 minutes before the end – when they were winning 3-1 and he was pressing and running around so much I thought 'wow, they have a Champions League game on the Wednesday and he is still doing that'."
Reporting to Brian Marwood, the club's senior football administrator, Rigg built up a 35-man scouting team that did more than merely filter the wheat from the chaff.
   
"The way it worked at City was that we would go out and get all the players and do all the groundwork – meet the agents, meet the player, go to the club. When it came down to the actual contract negotiations, we would leave that to the executives – Graeme Wallace, the finance director, Brian Marwood and Garry Cook. 'You negotiate the deal, off you go'.
"We would talk numbers but not as much as you're probably thinking. The sceptical view of the mercenary footballer…it was never that. Hand on heart, I can never remember having a meeting where I had to talk about money to tempt the person. It was always about the football."
Initially reluctant, he has to be pressed into highlighting the deals that gave him most satisfaction.
"The ones I am most proud of are the young ones that haven't made in the first team yet. There is a boy at City called [Jose Angel] Pozo that we signed from Real Madrid. He's a wonderful talent, 16 going on 17.
"Nigel [De Jong] I started watching when I was at Blackburn. Fantastic player. Vinny [Kompany] as well. I personally spent an awful lot of time on the Yaya Toure deal. It was a hard one to pull off. His agent Dimitri Seluk, I had some of the most hysterical times in meetings ever with him. In fact, I met him and Balotelli's agent on the day of a Champions League game in a Barcelona hotel up the road from the stadium called the Princess Sofia. I met the two of them in rooms below each other one after the other. We did the deals more or less then.
"A lot of it is getting people on the hook. Why would they want to come to Manchester? I'm not trying to kid you it wasn't about money at all but when Yaya left Barcelona, City hadn't won an FA Cup or anything. He could have gone to Italy, the vast majority of clubs at the top of the Premier League. They probably regret not taking him."
Rigg had inherited a system at City that was the Jurassic side of prehistoric. There was no worldwide scouting network and time to build a team was in short supply.
"Before, we had scouts watching Doncaster, Grimsby and Scunthorpe and maybe the odd game at Blackburn because they did great pies at half-time. Then every now and then, someone might do a trip abroad. Suddenly, we had to produce a Premier League-winning team.
"You aren't going to do that by scouting players from Grimsby and Scunthorpe. You are going to do it by scouring the world to find out who the best players are. It was all about getting there first, under-the-radar stuff. Anybody can sit on Championship Manager and say who the best players in the world are. It's not just about that.
"At the start we had one scout with a few on expenses-only. By the end, we had a team of 35 in our department, some part-time, some consultants, but the majority full-time. My job was that when the cream came to the top to make sure we closed the deal."
Rigg was grateful for no interference from the club's uber-rich owners. "Not only were they prepared to invest on and off the pitch but they were never, ever hands on," he observed. "Not in four years was I ever told, 'this is the player we must go and get' or 'this is what we must do'. Not once. Every single player who ever came to the club was referred to me and my department."



"City were very close to signing Alexis Sanchez from Udinese in the summer of 2011"

– Mike Rigg

Yet there was an acceptance of the need for instant results. "It was very pressured and was very much a case of getting it right," explained Rigg. "The difference between there and here [QPR] is Tony [Fernandes] is very level-headed and pragmatic. 'We are going to build and we are going to do it properly'. I won't say anything bad about City as a club but it was, like, 'We want this and want it now. We don't want to wait 10 years, we want to win the Premier League now'."
Rigg oversaw the establishment of a system in which City analysed players from every angle. How forensic was the attention to detail?
"Falling short of hiring private investigators…" he replied. "Put it this way, City were very close to signing Alexis Sanchez from Udinese in the summer of 2011. The lad who worked for me at the time, Barry Hunter, who is now at Liverpool, had been tracking Alexis with me for some time. We built a relationship up with [Udinese owner] Giampaolo Pozzo, who is the chap who now owns Watford. We had done all the bog-standard scouting reports and then Baz went on over there with his agent, with the permission of Udinese.
"Baz met the kid, had a coffee with him, went back to his family home to see what kind of home he was living in – what he wanted. Was it an apartment in the city? The kid liked tennis, played the piano. We went to training and watched him there. Baz had coffee and went to the beautiful town of Udine and actually just followed him for a bit to see where he was going, what he was doing, what he liked doing in his spare time."
Nothing was left to chance. "The lads would check into hotels and be in the hotels where they knew the team was playing and pretend to be a fan and go up and get an autograph off them. We didn't need to go in disguise because we weren't that well known.
"Patrick [Vieira] is an absolute diamond but me and Patrick went to see Lyon and watch Eden Hazard towards the end of last season. It was a complete waste of time. It was live on telly and our friend Roman texted and said, 'By the way, you and Patrick are on telly'.
"Nobody knows me but everybody knows Patrick, so everybody knew we were there to watch Hazard. But the rest of the scouts' work is done under the radar."
Rigg, a Cheshire-born "former slow, inept midfielder" realised in his late teens he would not make it as a professional footballer and cut his coaching teeth on Football in the Community schemes at Wrexham and Chester in the late 1980s and early 1990s.
He began doing voluntary work at the Football Association of Wales, got promoted to technical director and established a bond with the national team manager Hughes. Rigg left to join Sheffield Wednesday as the academy manager before re-joining Hughes at Blackburn, where he was appointed chief scout.
He said: "It's a bit frustrating at times when people say, 'Oh, you've just followed Mark'. Well, the reason why I have followed Mark is because he's a breath of fresh air.
"I've worked with a lot of managers – at Sheffield Wednesday, with [Roberto] Mancini. Understandably, because of the immense pressure they are under for results on a Saturday, around it, the periphery, they don't care.
"Why should Mark be bothered about an eight-year-old kid who comes from the streets around the training ground, because it's going to be 10 years before he's in contention for the first team? He does. There are not many managers like Mark genuinely interested in the legacy they leave behind them."
Rigg describes his four years at City as "a real privilege" but was persuaded to come to London by the prospect of revolutionising a recruitment set-up at QPR that he says "needed to be dragged kicking and screaming out of the dark ages".
Why leave a club who could dominate English football over the next decade? "It had come to a point where I needed a new challenge. I came and met Tony. He said, 'Listen, you've got a plot of land there. You might have to live in a caravan for 12 months but go build that mansion'."
"QPR needs to grow at a realistic rate. We are not going to go to being like Chelsea in the next 12 months"
Rigg is in charge of the academy, sports science and medical departments, not just player recruitment. He is effectively the director of football, although he has not been bestowed that title because it has such negative connotations in English football.
"Managers, coaches physically cannot watch enough games unless they've got a private jet on standby 24 hours a day. I was in France on Saturday night to look at a couple of players and didn't get back until 3.40pm on Sunday. One of my scouts will watch five games in Germany this weekend. How could any manager possibly do that?"
The Four-Year Plan documentary highlighted the absurd management set-up that preceded Tony Fernandes' August 2011 takeover and the reliance on agents to bring in players.
"Everyone beats upon agents," said Rigg. "They're doing their job – to manoeuvre the market and move on their players. It's not the agent's fault if you sign a bad right-back. It's the football club's fault if they don't have the records or dossiers on the players.
"As a club you're in control of your destiny. That's what we built up at City, due diligence so the players couldn't be blamed on the agents."
Over the last four months, Rigg has overseen the establishment of a scouting team at Rangers virtually from scratch. There is Steve Hitchen in France, ex-Chelsea scout Hans Gilhaus in Holland, Stuart Webber in the north-east of England and London-based scouting co-ordinator Kevin Cruickshank.
 
Rigg also appointed a new head of the academy, where the full-time staff has grown from two to 22 in the last two months. "I inherited one full-time scout. Mark wouldn't allow that to happen. Managers before him, well…"
Father-of-four Rigg, 43, reflects on a summer that was "four months of non-stop work – literally seven days a week, 20 hours a day, back to back". He offers a strong defence of QPR's recruitment policy, particularly critics who say the club have overspent on players closer to the end of their careers than the start.
"We have been pilloried a bit by the wider media, saying we spent fortunes," he continued. "We haven't.
"We spent €17.2 million on 12 players. Five were free transfers. The ones we have paid transfer fees for have all got a longevity at the club, like [Junior] Hoilett. We have released 15 and contract re-negotiated eight. We have 25 players in the squad, less than we had last year.
"If we wanted to bring in players who were a lot younger, we wouldn't have spent €16.2m-€17.4m. We would have spent €37-€49.8m. You tell me where you can buy good quality players on reasonable wages who understand the Premier League and have got Premier League experience. It doesn't happen.
"The strategy behind it was to improve the quality in various positions that we were weak in and where the squad needed to be strengthened. The key was age and experience. Before, we had very little Premier League experience or top-level experience."
QPR have a four-tier system for transfer targets, tier one being the very top and tier four being a schoolboy.
Rigg is looking at January, next summer, January 2014, five years and even 10 years' time but warned: "This club needs to grow at a realistic rate. We are not going to go to being like Chelsea in the next 12 months.
"This isn't pie in the sky. It is strategic planning. The ambition is to be a successful Premier League team. Man City went through this. It took them €1.2 billion and four years."
Follow Wayne Veysey on