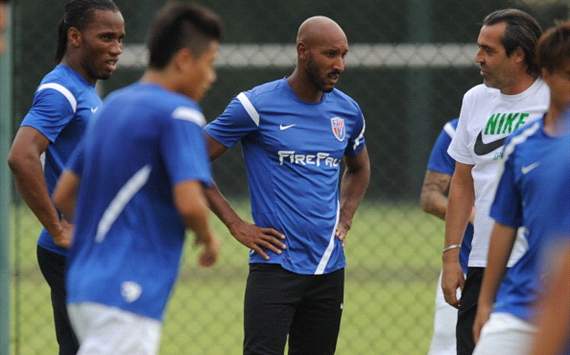 Sergio Batista dialoga con Didier Drogba y Nicolas Anelka
QPR manager Harry Redknapp has refused to rule out a move for Shanghai Shenhua striker Nicolas Anelka, describing the forward as a player who "would be of interest" to several clubs.

Redknapp is reported to be in the market for a new striker in January, with Andrew Johnson and Bobby Zamora both suffering from injury troubles, leaving the club with Djibril Cisse as their only recognised front man.
And while he remained coy on links with the French forward – who has previously played for Real Madrid, Arsenal, Chelsea and Liverpool – the former Tottenham boss did not rule out a potential move for the 33-year-old.
"I don't know what the situation is with him," he told reporters. "If he is available he is a player who I think would be of interest to people."
The 65-year-old also revealed that he is due to meet with chairman Tony Fernandes soon to discuss which direction the club will head in during the January transfer window.
Redknapp admitted that extensive funds may not be available to him, but did state his desire for new recruits – even if they were to come in the form of a loan deal.
"We will sit down and the owners will have a look at the situation," Redknapp said.
"Maybe we won't have to spend any money. Maybe we can pick up a couple of loans. It's a case of knowing who is around, knowing who is available and who can do a job for you."