Despite being less experienced than the soon-to-depart Spaniard, the 21-year-old Egyptian, set for a move to Stamford Bridge, will provide a different, much-needed threat
PROFILE
By Ewan Roberts
Chelsea have become increasingly used to the sight of Mohamed Salah, in Basel blue and red, wheeling away in celebration after netting against the west Londoners. The Egypt international has scored three times against the Premier League giants since May of last year, but they will not have to put up with this thorn in their side any longer.
As is want for a side of Chelsea's wealth and standing, they have moved swiftly to sign Salah, gazumping Liverpool to his signature in a deal that could rise to £16 million. From fearing the 21-year-old's pace and dynamism, now the Stamford Bridge outfit can look to harness it in the race for the title.
The Egyptian arrives at the club via Swiss Super League champions Basel, where he has impressed more in European competition than domestically. Last season, for example, he recorded more assists in 14 Europa League outings than he did in 29 league matches, and there is a sense in some quarters that he would have benefited from more time in Switzerland to develop and taper some of unpredictable rawness.
THE VIEW FROM EGYPT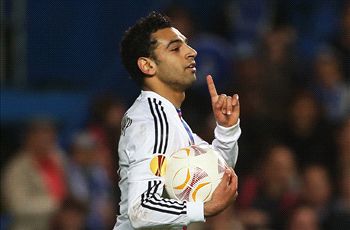 By Ahmed Atta
| Goal Arabic Chief Editor
This is truly a historical moment for Egyptian football as Mohamed Salah becomes the first Egyptian to play for an elite-level club.
Mido, of course, featured for both Tottenham and Roma in recent years but Salah turning out for Jose Mourinho's Chelsea takes things to a whole new level.
So from little-known Al Mokawloon to Chelsea via Basel, Salah has really proven his ability in Switzerland and showcased his talents at the very highest level with his performances in the Champions League.
Is he ready for Chelsea and will he fit in? Well he may have to settle for a place on the bench more often than not, especially at the start of his Blues career, where a switch to Liverpool may well have seen him gain more starts. That's not to say he can't make an impact, however, with his frightening pace certainly an asset against tiring teams.
Defensively, as well, Salah offers plenty and that could be one of the main reasons Mourinho opted to sign him. He showed time and time again with Basel that he is capable of tracking back and retaining possession, which of course the Chelsea boss demands from his midfield players.
Ironically, just as Salah impressed Chelsea by putting them to the sword, it was a goalscoring display in an Egypt Under-23 friendly at the Stadion Rankhof against Basel that convinced the side to sign him. He was invited to train with the Swiss side and signed shortly afterwards.
It would have been rather different had Zamalek SC president Mamdouh Abbas recognised Salah's talent. The Egyptian giants, notorious for preventing their players from moving to Europe, had been linked with the devilishly quick winger but eventually decided against a deal.
In a strange quirk of fate, Salah now has the opportunity to establish himself on the grandest of stages in a way that former Egyptian poster-boy Mido, once of Tottenham and Roma, could never quite do. The 30-year-old, who failed to live up to enormous promise, is now the coach of Zamalek – and how he must crave a player of Salah's finesse and trickery.
The immediate task facing Salah at Stamford Bridge will be replacing Juan Mata – who is expected to join Manchester United imminently. Previously those would have been rather large boots to fill, but perhaps not any more. The Spaniard has been ousted from the first team under Jose Mourinho, relegated to the bench, and has produced just a miserable two assists in 11 Premier League appearances.
Salah should not expect to immediately cement a place in the first team, but there is a sense that he offers certain qualities that Mata, and Chelsea, have lacked. He is quicker than any player the Blues boast in their frontline and, as Petr Cech will attest, has a knack for preying on the last man, darting in behind defences and finishing with aplomb.
The former El Mokawloon winger, who won the Most Promising African Talent of the Year award in 2012, may not be as established or influential as Mata, but he brings a different, much-needed skillset to the club. The bests squads are not comprised of simply the best players, but need to offer variation and options – and in this respect Salah could even be more valuable than the man he will replace.
He's a natural wideman, unlike so many of Chelsea's attackers, capable of playing on either flank, and his pace will terrorise tired defences on the counterattack. That speed and directness makes him a perfect weapon off the bench in a side that has occasionally required a spark of invention and je ne sais quoi.
Mata's looming departure was brought about by a lack of suitability to Mourinho's high-pressing style of play, but Salah feels a much more natural fit to that defensive tempo and application.
While Salah might have preferred the freedom Brendan Rodgers' expressive style would have afforded him at Anfield, he certainly won't be at odds with Chelsea's philosophy. Coming up against more established sides in Europe, he has been asked by manager Murat Yakin to track back, work hard and absorb pressure.
In fact, only two outfield players (Shakhtar's Darijo Srna and Porto's Fernando) have recovered possession more times in the Champions League this season than Salah's 44. Meanwhile, no Chelsea attacker has recorded more interceptions than Salah's six, while only Oscar (12) has more tackles than the Egyptian (7) – Mata, as testament to his lack of suitability, has zero.
Salah, then, is an entirely different type of threat to what Chelsea currently have at their disposal, yet he also a good fit for the style of play promoted and demanded by Mourinho. The west Londoners may be losing a two-time Player of the Season, but in Salah they have a explosive, frighteningly quick replacement who could have a big role to play in the title race.
Follow Ewan Roberts on