The retired midfielder believes that a number of factors, including the demands of his represenatives and Sir Alex Ferguson's reluctance, contributed to the Frenchman's exit

Paul Scholes has praised his former Manchester United team-mate Paul Pogba but says that the club should not pay big money to get him back this summer.
Pogba moved to Juventus 2012 after growing disillusioned with life at United under Sir Alex Ferguson.
The midfielder will be one of the most sought after players in this summer's transfer window, with a host of top European clubs on his trail.
Barcelona, Chelsea, Manchester City and Real Madrid have all been heavily linked with an interest in the 22-year-old, while Goal understands that a deal worth €80 million has been put in place with Paris Saint-Germain.
But Scholes says that his former club should not put themselves in the running to bring Pogba back to Old Trafford.
"As for United, I don't feel they should go back to sign Pogba for the sums being talked about, having lost him for the compensation payment," he wrote in the London Evening Standard.
"I understand that Chelsea did the same when they bought back Nemanja Matic from Benfica but his fee was nothing like the numbers quoted for Pogba. It would feel wrong to me."
Scholes saw plenty of potential in the future France international, although he believes that his own decision to come out of retirement at the start of 2012, when the youngster was on the fringes of the first team, may have ultimately influenced the thinking behind his exit.
The former England man also feels that Pogba's representatives' wage demands as well as the hesitance of Ferguson and the United youth coaches also contributed to one of Europe's hottest properties walking away for almost nothing.
"He had the confidence to come up to senior players and seek out advice," Scholes said. "He was dedicated that way. He was absolutely desperate to make it as a footballer and he grabbed every chance he had to learn.
"He was a very good footballer: technically excellent and he knew how to strike a ball. He spoke to me about improving his range of passing so, after training, we would spend time pinging the ball to each other from 50 yards' distance. He had stronger suits to his game than his long passing – his power, his technique in close quarters, his athleticism – but he was determined to get better at what he thought was the weaker part of his game.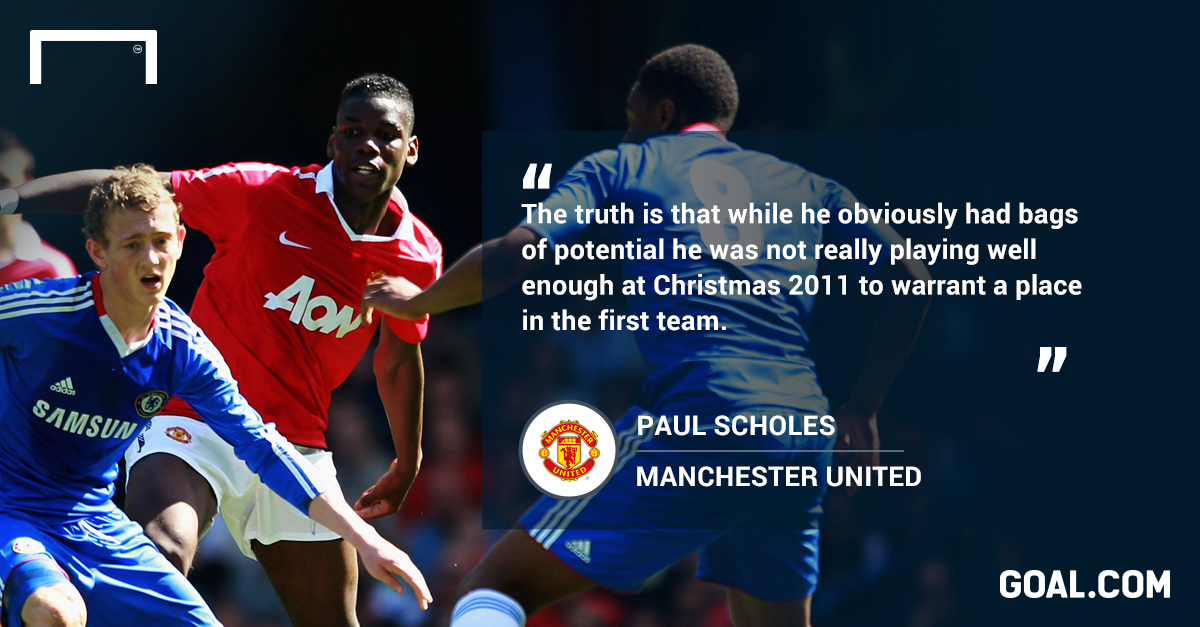 "While he obviously had bags of potential, he was not really playing well enough in that period up to Christmas 2011 to warrant a place in the first team squad on a permanent basis, let alone start games.
"The home game to Blackburn Rovers on December 31, 2011… had been a key moment in Paul's thinking. Injuries meant that the manager played Michael Carrick in defence and in midfield he selected Rafael Da Silva alongside Park Ji-Sung. Paul was on the bench and very frustrated that he had not started the match.
"So by the time I came back into the side in January he might well have made up his mind that he was leaving but I don't suppose it helped having an old boy come back into the team in front of him. The reality was that he had not played well enough to deserve a regular place before then because, if that had been the case, our manager would undoubtedly have selected him.
"The understanding in the dressing room was that Paul's advisors just asked for too much money for his next professional deal. They wanted first team money for a player who was not in the first team at that stage. United felt that was not right and stuck to their principles."