ANALYSIS: Despite criticism from the media and the fans, the Welshman continues to enjoy the crucial backing of president Florentino Perez

By Robin Bairner
The future of Gareth Bale has become big news again over the course of the last week.
The Welshman hit the headlines after a particularly ineffective display for Real Madrid in the Champions League semi-final first leg against Juventus, in which he touched the ball on fewer occasions and completed fewer passes than goalkeeper Iker Casillas.
His presence on the field was incidental, and such a mute display was instantly criticised by the notoriously vocal Madrid support, not to mention former Manchester United star Roy Keane, who argued that it was as if Los Blancos were playing shorthanded in their 2-1 loss.
But this was not a one-off for the 25-year-old, whose performances this season have struggled to justify his world record price tag of €100 million.
As a result, Manchester United continue to be closely associated with the attacker, while neighbours City, Chelsea and even Bayern Munich have been following him.
Bale, however, is unlikely to find himself cast away from the Bernabeu this summer – and he has shown few inklings off the field, at least, that he wishes to depart.
For Madrid president Florentino Perez, he represents a source of egotistical pride. He cannot be allowed to fail in Spain, for that would represent a failure of the club president himself.
"Bale's future will depend on the whims of Perez," Ramon Calderon, the president's predecessor, told ITB Times UK when quizzed over the player's future.
"But you have to bear in mind that he much protects the players that he signed. He has always defended those he has brought to the club. He doesn't like to admit that he has made a mistake."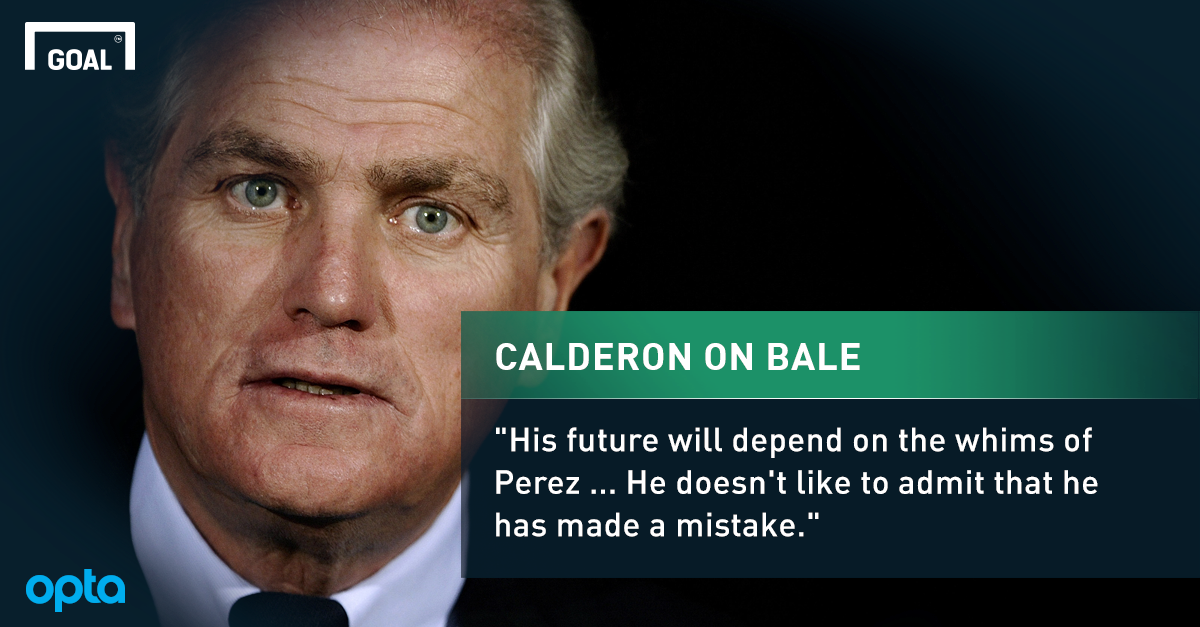 Kaka represents a prime example. In 2009, the Brazilian was signed for €70 million, but despite failing to make the impression of a Ballon d'Or winner, Madrid persisted with the playmaker for four mediocre seasons before he eventually returned to Milan.
By contrast, Bale's arrival in Spain has been a success.
The capital side have gambled much on him. Aside from the riches invested in his transfer fee and wages, there was also the opportunity cost of allowing Neymar to join Barcelona. As the Brazilian looks ever more comfortable alongside Luis Suarez and Lionel Messi for the Catalans, the pressure also grows on the former Tottenham man to improve.
Of course, the status of being the world's most expensive player is one that brings a cursed expectation level, particularly when that player happens to join a club still dominated by Cristiano Ronaldo. Rarely is the game's biggest buy also the best player, and moving to Spain has simply opened the Wales star to direct comparison to the Ballon d'Or holder and Lionel Messi.
In particular, there has been disappointment at the manner in which he has failed to assert himself in big fixtures. Although he scored decisively in last term's Champions League final win over Atletico Madrid, he has failed to impose himself in most of the Clasicos he has played.
Nevertheless, expectations for Bale were – and remain – high. The belief in the Spanish capital is that he can yet become as effective as Ronaldo, while the player's agent is still confident his charge can surpass the Portuguese given the correct backing from the side.
"He's going to be the best player at Real Madrid when his team-mates work with him and help him," Jonathan Bennett told The Telegraph.
His overall numbers remain good, but they are not the outstanding figures dreamed of. Until he is seen as a more charismatic leader in the dressing room, someone to match Ronaldo in this regard, he is unlikely to gain the volume of possession he wishes.
While Bennett admitted his client was "p***ed off" with the current situation in Spain, there is no desire to depart on the player's part.
"There's no way he is going anywhere in the summer. When we said he always wanted to play for Madrid, it was 100 per cent true and he's determined to be a success there."
So with Perez and Bale both intent on making the move more of a success, there is little prospect of rumours of a Premier League return coming to fruition at this juncture.
Follow Robin Bairner on