COMMENT: The Napoli boss is the favourite to succeed Carlo Ancelotti should he be fired. Madrid would be making a smart move appointing a man who learned his trade at the Bernabeu

By Peter Staunton
What Real Madrid want and what Real Madrid need are two very different things and sometimes the club itself is unsure where the distinction should be made.
They wanted Jose Mourinho. He was hired as coach to be the ego above all egos; the man capable of pointing to his medal tally and drag an under-performing dressing room into line. It worked, for a while. He won the league title but eventually departed with a trail of discord and disharmony in his wake.
They wanted the easy-going nature of Carlo Ancelotti. He was sought to offset the upset and turmoil created by Mourinho; the Yang to the Special One's Yin. "I do not like screaming," he says. "I want the team I work with to be convinced of my ideas. Only this." He, too, managed to huddle together the most demanding dressing room in sport and deliver for Real Madrid the holy grail – la Decima.
Madrid are now left to ponder the duality in both of their recent coaching appointments as Ancelotti prepares for his showdown meeting with president Florentino Perez following the club's last game of the season against Getafe. He understands that he will need to go after this trophyless campaign.
"I know this world is like that," he said. "I'm surprised that anyone is surprised about this. I'll take awareness of having given all I could give. These are things that can happen in football."
The choleric Mourinho inevitably went out in a fiery blaze. The phlegmatic Ancelotti has, perhaps, been too laid-back. The character traits that marked them out as desirable to Real Madrid have been, eventually, their undoing. What Madrid wanted was not necessarily what they needed.
The club is now conducting some soul-searching. They are leaning towards a man with the self-confidence of Mourinho but not his arrogance. They are leaning towards someone who, like Ancelotti, will allow his players to get on with he job but who won't let them ease up too much. They are leaning towards someone they need – albeit someone the fans might not want.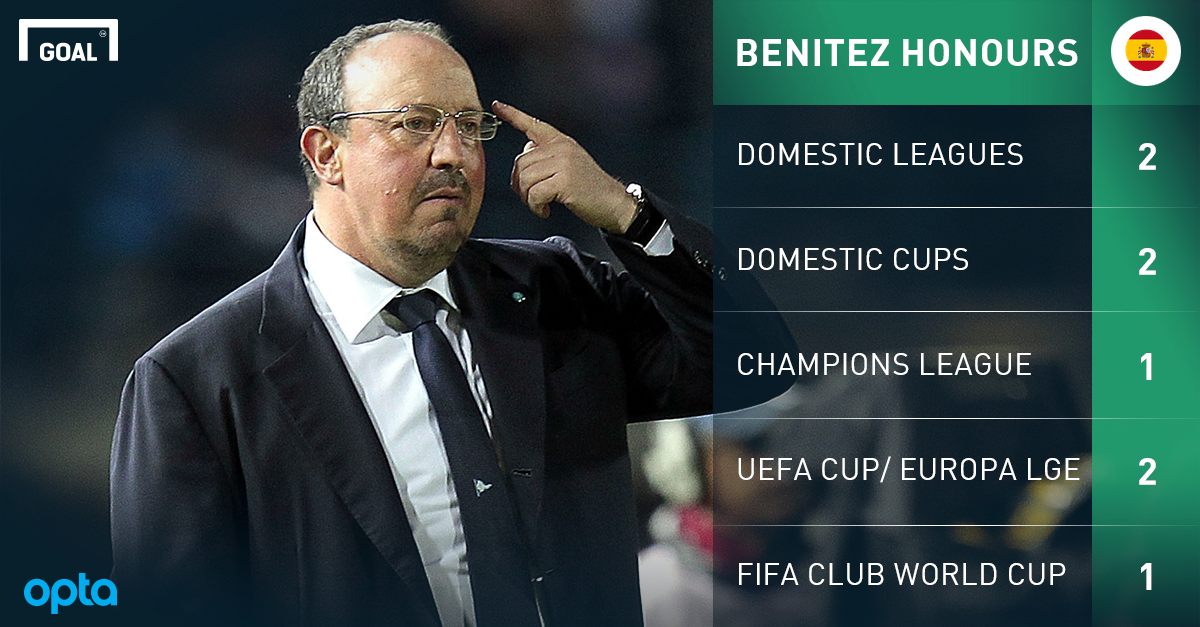 The next man potentially in, not unlike Vicente del Bosque when replacing John Toshack in 1999, might seem like the underwhelming appointment but he will know Real Madrid through and through. He will not touch either of the extremes that Mourinho and Ancelotti did.
If he gets the job, Rafael Benitez will be hired as much for who is he is and what he represents as what he has done. He had left Real Madrid in 1995 after spending, essentially, what was the first half of his professional life with the club.
Benitez boasts the personal recommendation of Madrid's highly-influential general manager Jose Angel Sanchez. Benitez's agent, Manuel Garcia-Quilon, has spoken on the record of his close relationship with Sanchez as well as Perez.
Madrid's immediate priorities are total domination of the domestic landscape and consistent success on the continent. Under this, the second term of Perez's presidency, they are not achieving them.
Real have won only three Liga titles in 12 years. They have won the Champions League only once since 2002 despite breaking the world transfer record three times in the last six seasons – including twice in the one summer when Perez returned to the presidency in 2009.
Barcelona's is perpetual success with the odd gap here and there, whereas Madrid's big trophy wins are exceptional, rather than the norm.
Ancelotti has not been able to battle Barca nor has he been able to match la Decima this season. The fight has now gone out of his team. It can now be said they reached their peak with the Club World Cup win against San Lorenzo in December, a victory that confirmed four cups in 2014. They achieved Spanish, European and world glory. The run stopped before the Galacticos went intergalactic. Ancelotti has been unable to muster the performances in the second half of this season even as, again, the prizes loomed into view.
"We've had two different seasons," Ancelotti admitted. "Until December with all the records and all the titles and then the second part, where we could have done better. It has hurt us at the end of the season."
Perez was the one who let Del Bosque leave in 2003, only days after winning the league title, but he could finally be about to appoint his natural successor to move the club forward and into their next era. Madrid did not appreciate what they had at the time when they parted ways with Del Bosque, a loyal man who knew the club and knew how to win.
That Primera Divison crown, the second won by Del Bosque, was sandwiched between the two won by Benitez at Valencia. If anyone doubts his aptitude for sustained managerial brilliance over the course of a league campaign then look no further than those two remarkable victories.
The prospect of having Benitez coach the team will not give Real Madrid supporters any butterflies in their tummies because they know what they are going to see. Benitez builds his teams to be hard to beat, to execute his game plan with discipline and to accept that not every player is going to play every game.
Ancelotti has long been let down by his own inability to manage a team through a successful league season. He has underachieved in that respect. He has persevered with the same players, by and large. He knows his favourites and picks them every week despite the evidence on show in Catalunya that rotation, however occasional, pays off.
The elements of rotation and league success are inextricably linked when players have to play up to 70 games a season. Benitez knows this.
If Cristiano Ronaldo thinks he is not going to be rotated out of the line-up as Benitez sees fit then he may call Steven Gerrard and ask him if he was really forced to play a season on the wing.
Iker Casillas might want to speak to former team-mate Jerzy Dudek and confirm if he was really shipped out immediately after winning Liverpool the Champions League in 2005 with his saves in the shootout against AC Milan.
Benitez is not a man to get flustered in the face of criticism. He walked into Inter after Jose Mourinho and took on then-owner Massimo Moratti from day one over the need for re-investment in the team. Hindsight has shown Benitez to be totally right. Inter did not endure a blip after Mourinho left, they crumbled to their very foundations.
He had no qualms either about taking over at Chelsea, stepping into the seat once occupied by Mourinho and Ancelotti, despite the widespread hatred of him by the Chelsea fans. He got on with the job, won them a Europa League and re-qualified them for the Champions League. He is unflappable. It is unlikely the media scrutiny at Real will get to him, either.
He has suffered at Napoli as he now approaches the dog days of his reign. His reputation will not have grown in many people's estimations. He has delivered a Coppa Italia though and only a chronic lack of investment by president Aurelio De Laurentiis last summer prevented him storming back to the Champions League group stages this season. He will not have those impediments at Santiago Bernabeu.
His priority will be to make a team that can compete on two fronts. Can he win the Spanish league? Yes he can. Can he win the Champions League? Yes he can. He has done both.
He is still perceived in some quarters as yesterday's man. In many respects that is true. He was here in years gone by. He knows the politics, the expectations, the demands and the unique pressures of the White House.
But Rafa Benitez is the right man for Real Madrid's tomorrow.