SPECIAL REPORT: The club captain won't ask to leave the club in a bid to ensure he receives a sizeable loyalty bonus

By Alberto Piñero in Madrid
Iker Casillas and Real Madrid look set for a summer stand-off as he refuses to request a move in a bid to ensure he receives a €14 million pay-off.
The club captain claims he would like to stay at the club where he has spent his entire career, despite receiving boos and jeers from the Madrid fans on a number of occasions this season.
However, if he does leave the Santiago Bernabeu of his own accord, he would miss out on a €14m loyalty bonus.
As a result it is thought he may be playing a game of cat and mouse with Madrid to ensure he is handed that sum as a reward for spending 17 years at the club.
Likewise, if the club confirm he is for sale, they will have to pay Casillas the €14m settlement, so it appears neither side are prepared to move first in what looks like a complicated series of negotiations.
However, Madrid want to sign Manchester United goalkeeper David De Gea, while current second-choice Keylor Navas has claimed he will "fight to the death" for his future at the Santiago Bernabeu.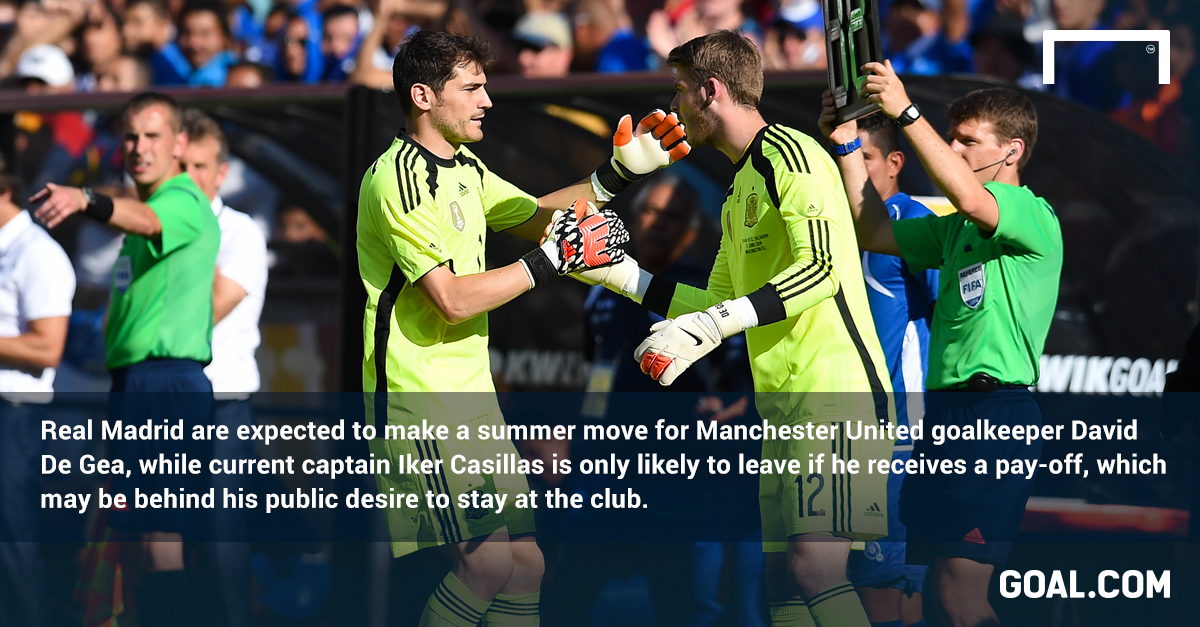 Casillas has even admitted he hopes Madrid sign De Gea this summer, welcoming the competition from his younger Spain team-mate, despite the fact the 24-year-old would likely replace him as first choice keeper.
For his part, De Gea has remained silent amid talk of a summer switch from Old Trafford, but the former Atletico Madrid man wants a move to the Bernabeu and is waiting for the two clubs to begin negotiations over a possible transfer.
And like last summer, when Diego Lopez claimed he would stay and fight for his place at the club, current second-choice shot-stopper Keylor Navas is not giving up on his Madrid future either.
The Costa Rican goalkeeper said earlier this week that he would "fight to the death" for his Madrid future, but is almost certain to make way if De Gea arrives and Casillas decides to stay for another season.
Follow Alberto Piñero on