The Dutchman arrives with similar characteristics to those which many believed would make the Argentina star – now of Paris Saint-Germain – a success at Old Trafford
---

ANALYSIS
By Kris Voakes

---
"It's up to the boss where he puts me," Memphis Depay said when he faced the media as a Manchester United player for the first time. The former PSV winger was clearly arriving at Old Trafford with his eyes wide open after watching Angel Di Maria's struggles under Louis van Gaal over the previous 12 months.
The Argentine's transfer to Paris Saint-Germain comes as a very clear warning to Depay. Van Gaal's desire to have his United side adopt his highly structured approach very quickly made a mockery of Di Maria's £59.1 million switch from Real Madrid less than a year ago.
"I think he's one of the few highly-talented boys of his age," Van Gaal said of the Netherlands international. "He's full of confidence, as you can hear, but he also knows there's a difference between the Premier League and the Dutch league.
"There's also for me a question mark [over the strikers]. I have to see how we solve this problem. It's also one of the reasons we have bought Memphis. He can play different positions, he is one of the greatest talents of his age and we have to wait and see in what position he can excel."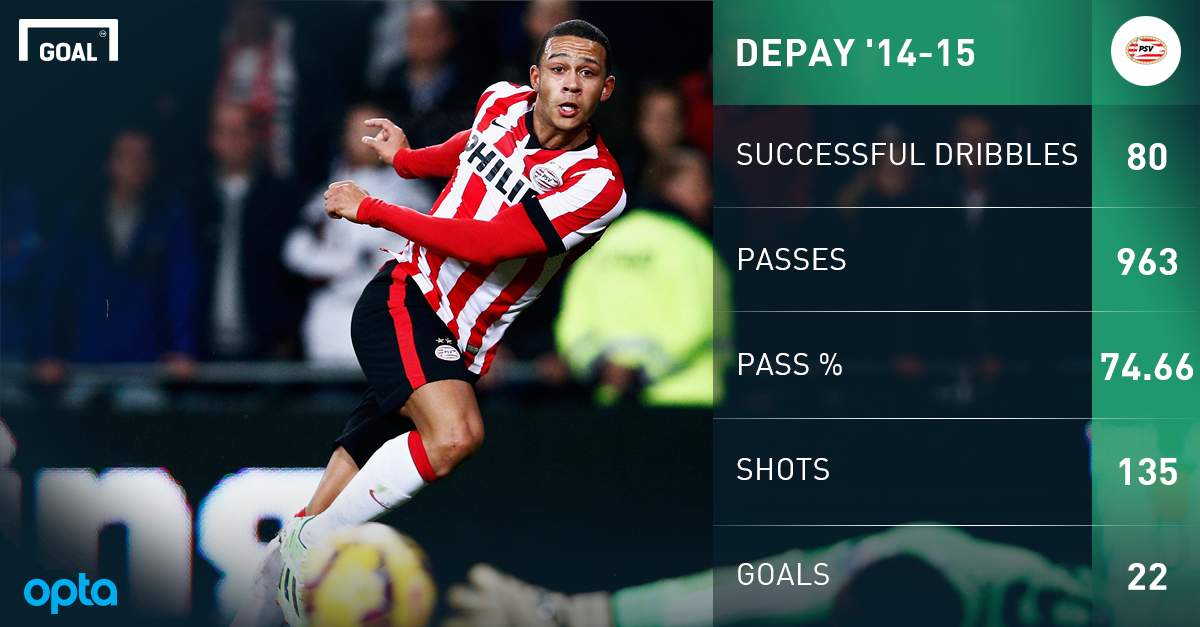 Depay could yet feature on the left wing for United or as a striker, but the lesson needs to be learned from Di Maria's curtailed spell. One minute he was the subject of a British record transfer, revelling in a largely unrestrained role, netting three goals in his first five games for the club. The next, he was a perennial substitute, introduced late on in games to take up a slot in a congested five-man midfield.
That wasn't how it was meant to be.
"At this moment, we have five No.9s and four No.10s – and we don't have wingers to give us attacking width," said Van Gaal before the Argentine's signing. "We don't have wingers of the highest level, like Ronaldo or Di Maria or somebody like that. So, I have to play in another way – and you have seen that already."
But even after he was snapped up in late August, Di Maria was rarely given the licence to play in his favoured role. When he wasn't employed in a narrow midfield, he was an attacking midfielder up against burly centre-halves and uncompromising defensive midfielders. His being asked to play outside his comfort zone hardly helped him to fully assimilate with life in a new league.
"I think the form that he is showing now is possibly more typical of a player going to a new club than the very first few games when he burst onto the scene and did so well," said Argentina coach Gerardo Martino in November.
"With regards to his position, I would say that Angel is the type of player who can play a number of different roles expertly. You only have to look a few seasons back when he played on the right side for Real Madrid and in the season just gone, he featured more on the inside-left in a slighter freer role."
Derivatives of the word 'free' used to be synonymous with Di Maria. "At Madrid the three forwards always have freedom of movement. We can swap places and look for spaces whenever we want," the player himself told Four Four Two during Jose Mourinho's Real Madrid reign.
But under Van Gaal his natural approach was increasingly stunted, and by late February Di Maria's slump had reached a new low. An anonymous first-half display against Sunderland saw him replaced by Adnan Januzaj at half-time, with United improving in the second period to win 2-0.
"You don't lose your talent overnight. I think he will figure it out," claimed Wayne Rooney after the match, but the Argentine would never again play a full 90 minutes for the club as his performance levels continued to slide.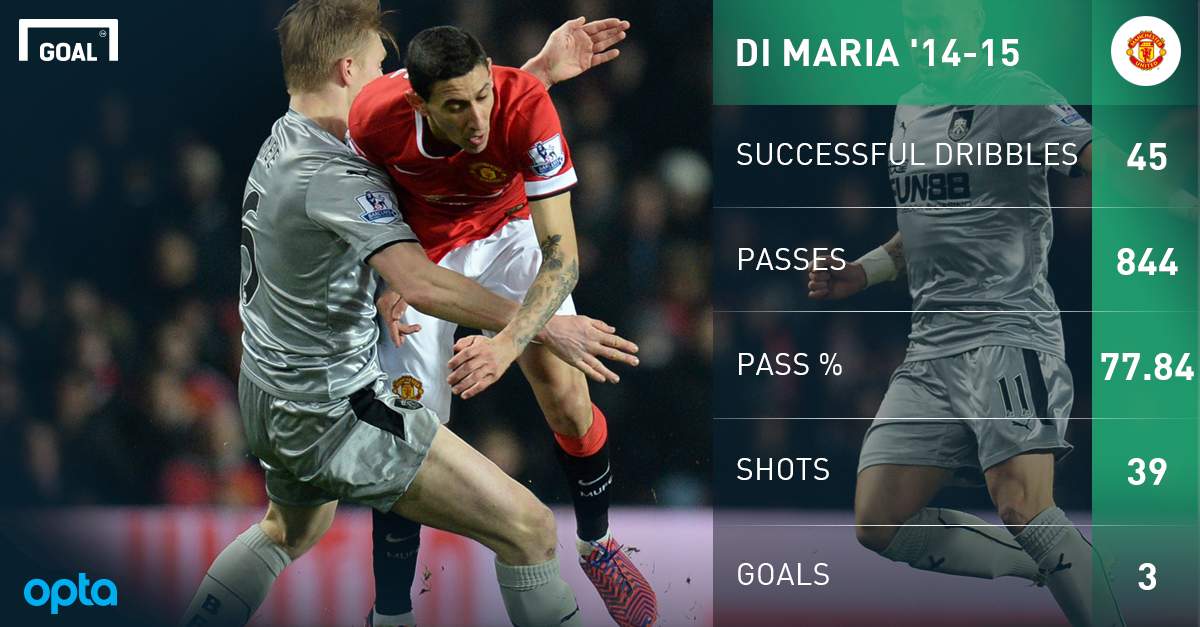 "With players who take risks, who can win games, it's always difficult to be consistent because they will try things that other players won't do because they are capable of doing that," said Ryan Giggs as United looked to explain away Di Maria's lack of form.
But the Argentine had been bled dry of his creative instincts and was no longer looking to take the risks that used to be such a huge part of his game.
Undoubtedly, the attempted break-in at his Manchester home in January, which left his wife shaken up and scared to return to the property, played a part in his poor form towards the end of the season. But in truth he had never hit the heights expected beyond his first few games with the club.
"I'm not happy with my first year in England," he admitted before heading off for the Copa America in Chile this summer. "I moved here from Real to win titles and this season has been very bad for me. I'm frustrated because I want to do better.
"The fans in England have not seen the real Di Maria. I know I can offer a better level. This year was not good enough."
He later told Goal that a World Cup hangover was partly to blame for his Old Trafford ills.
"The Angel Di Maria from before the World Cup and after the World Cup changed so much because we gave everything we had on the pitch," he claimed.
Another South American who struggled at Old Trafford, Diego Forlan, was not entirely shocked by Di Maria's lack of success with United.
"Di Maria started out in England like the player we knew he was at Real Madrid in the 2013-14 season. He looked a class above opponents, he ran at defenders, he was a danger around the box and he covered so much ground.
"But players are not robots and if there's something wrong then their coaches need to find out what the problem is.
"Great coaches and great players don't always get on and not every player fits into rigid systems."
In Depay, United have recruited another player who will be giving full-backs nightmares at the prospect of stopping his rampaging runs. Over the last four league seasons, the youngster has gone on significantly more dribbles than Di Maria (427 to 365), has attempted 69 per cent more shots, made 56% fewer tackles and completed 1500 fewer passes. And all this despite Di Maria having appeared in 26 more games over that period.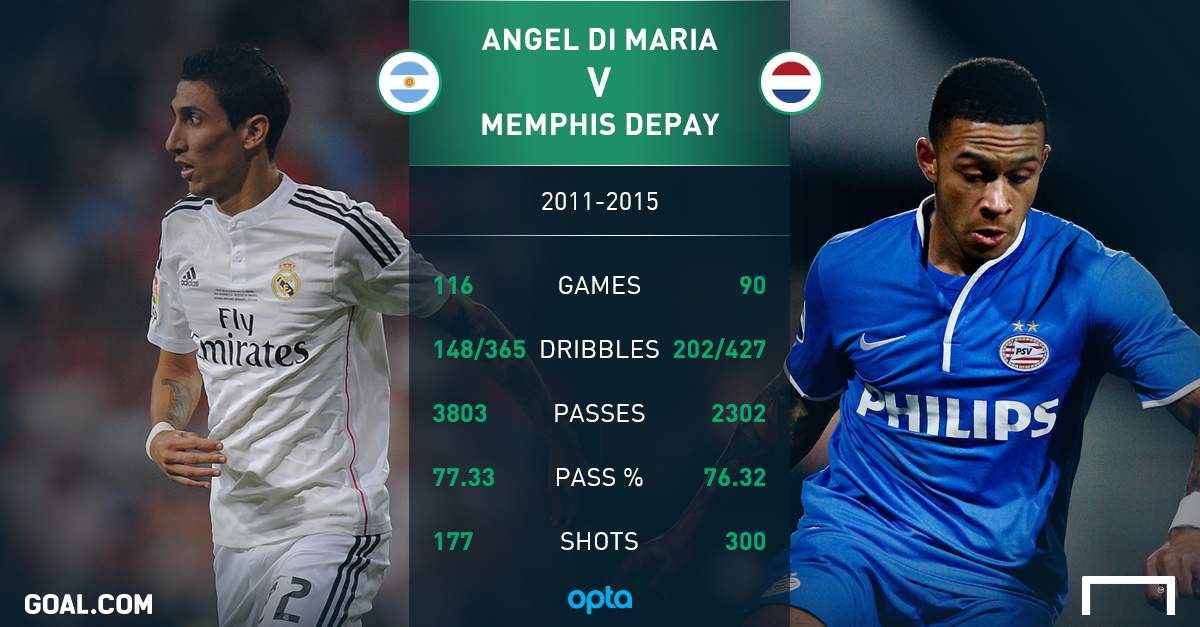 If anything he is an even greater individualist than the new PSG man: a self-confident character, far more likely to need reining in than Di Maria, who arrived at Old Trafford with rave reviews relating to his versatility.
But the need to fit into Van Gaal's system is the first, and perhaps biggest, hurdle Depay must overcome. It did for Di Maria and could just as easily trip up the Dutch flyer if he is not careful.
It is now up to Depay to show he can be more disciplined and versatile in the red-hot atmosphere of Premier League football than Di Maria. The spotlight will not be quite the same given the difference in transfer fees, while Van Gaal has clearly had a far bigger say in his compatriot's transfer than he did in the Argentine's.
But as an out-and-out winger in a side unlikely to need one, Depay must review Di Maria's spell as a lesson in how not to succeed under Louis van Gaal.