The 23-year-old's attitude and form were called into question in 2016 – it's time for him to start living up to high expectations
---
COMMENT
---
As Julian Draxler leaves an underwhelming Wolfsburg side for Ligue 1 champions and Champions League hopefuls Paris Saint-Germain, his prospects aren't as bright as one would expect.
The 23-year-old looked destined to move on to greater things since bursting into the Schalke first-team in January 2011, emerging as the youngest player ever to play in the Bundesliga for the Royal Blues. He was constantly linked to clubs like Arsenal, Real Madrid, Manchester United and Manchester City. He was declared a world class talent in the making.
How Ronaldo & Messi can be lured to Italy
But, after six years in one of the best and most technical leagues in Europe, Draxler is not leaving as a player ready to take on the world and raise the level of his new club. Instead, he has a great deal to prove.
Part of the problem is that Draxler's attitude has been called into question a great deal. He did, after all, force his way out of Schalke to join Wolfsburg. Then, after just one season in the Volkswagen Arena, he attracted criticism by going public with his insistence that Wolfsburg had blocked a move and that he was desperate to leave. Juventus were lurking, but he snubbed them.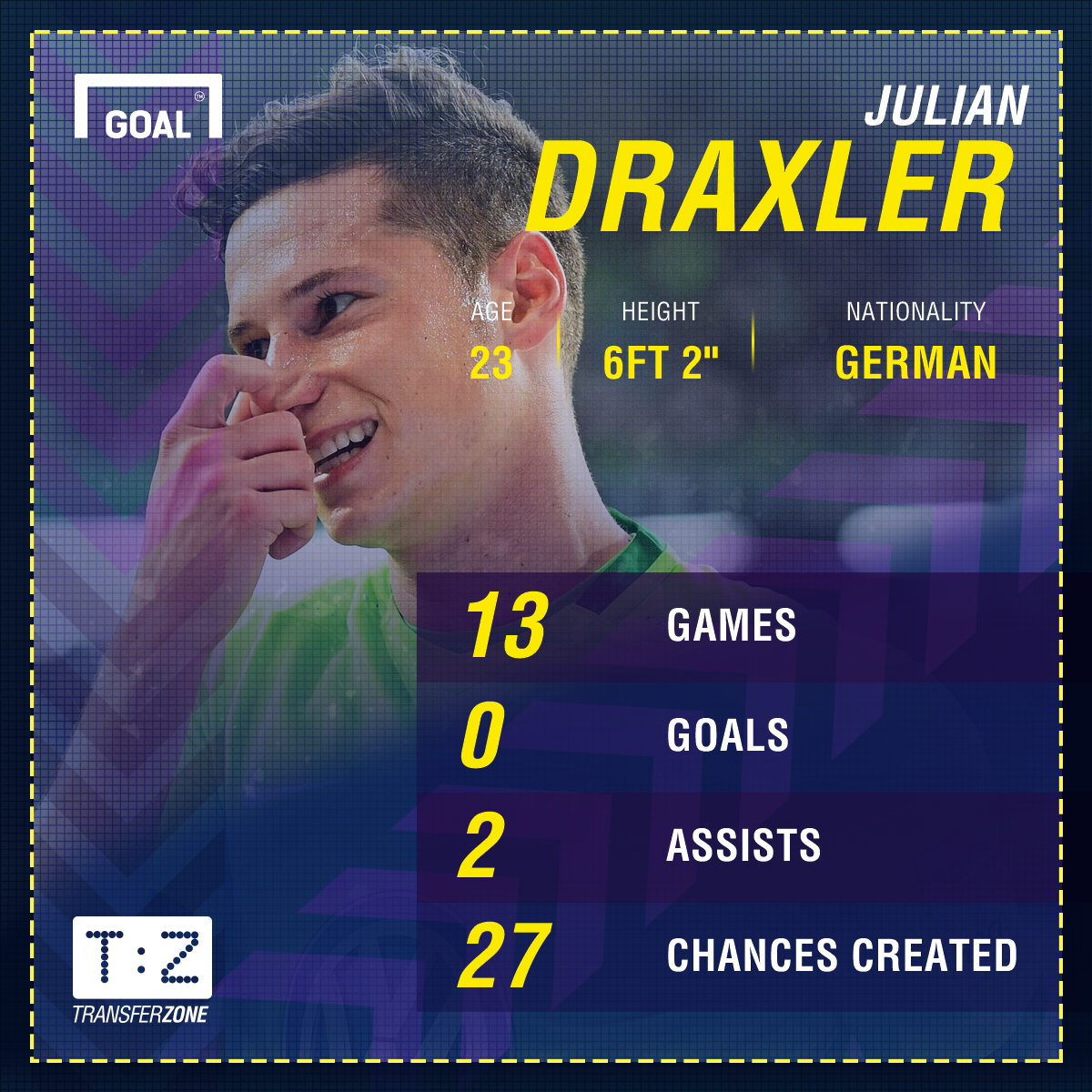 Draxler has always been in demand – a sign of his incredible talent – but his form of late has not warranted such arrogance on his part. While £30 million may be peanuts to PSG, it seems hard to justify such a fee considering an apparent lack of competition.
The Germany international was brought in to help cover for the loss of the creative machine that is Kevin De Bruyne and, while Wolfsburg have been on a bit of a decline, he has heavily underwhelmed this term.
OFFICIAL: PSG sign Draxler for £30m
Draxler, a €36m signing, has not been able to lift the surrounding players at Wolfsburg to build on last term's eighth placed finish, a massive decline from the runner-up spot De Bruyne had guided them to. They're placed 13th in the winter break, just three points above the relegation zone.
After 13 league games in which he has amassed two assists and no goals despite having 23 shots in total (excluding blocks), Draxler has failed to make the difference for Wolfsburg in their time of need. That, coupled with his poor conduct in the press and criticism of his employers again does not put him in the best of light. He will have to improve on this dramatically if he is to have an impact on a side challenging for every competition they enter.
Even with a move imminent, Juve were not willing to go back in for him and instead fancy Real Madrid wantaway James Rodriguez.
At 23, Draxler still has a lot of potential. There is no denying he is a quality talent, but he must put in the work to get his development back on track. And yet, with their Ligue 1 title challenge looking toothless, PSG might not be the best place to return to form. The pressure on him is huge, and the patience he is afforded may be even less than given him at Wolfsburg.
Furthermore, he has to break his way into PSG's first team. Angel Di Maria has been in good form for the Ligue 1 champions so far and has switched from the left wing to the right, with Lucas Moura remaining a first-team regular on the opposite flank.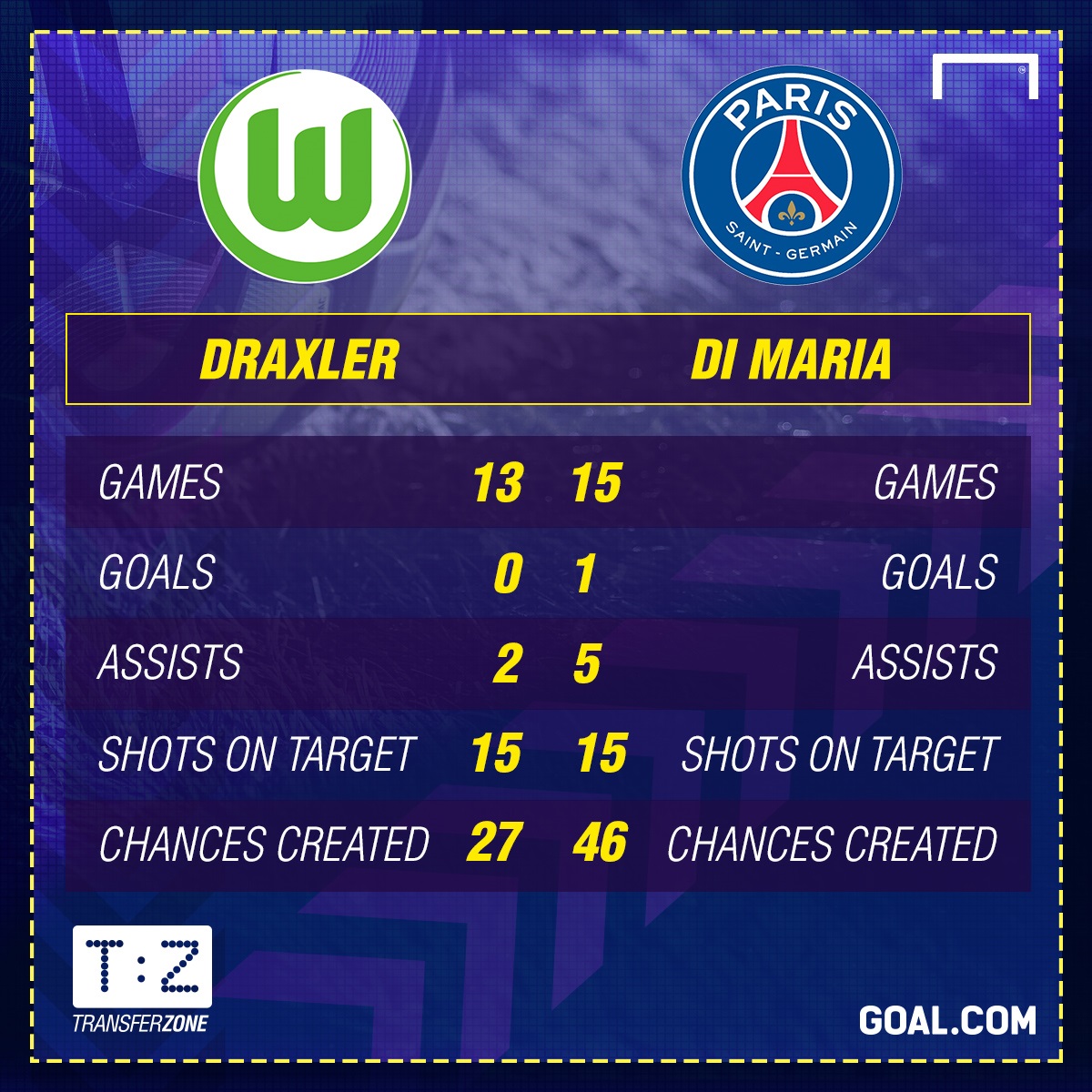 Crucially, Draxler has his versatility to call upon. He has been used as a left winger throughout most of his career, but he feels more at home in the No.10 position. Of course, this would require some tactical readjustment from Unai Emery, but it may be what is needed to help make Di Maria and Lucas a more direct threat, while providing better service for striker Edinson Cavani.
Man Utd fan dies after West Ham collapse
He may have been lacking effectiveness at Wolfsburg, but he has always been a consistent creator of chances – he was still his side's most prominent in that area this term, but he is getting nowhere near the all-round awesome figures of his early seasons at Schalke. In 2013-14, for example, in which he played 26 games, no Schalke player created more chances than he did, and as a result he finished with more assists than any team-mate. The season before then, in which he played 30 times, only Jefferson Farfan was responsible for more opportunities, but Draxler was his side's joint-top scorer with 10 goals and three assists.
That natural talent and deadliness has not completely gone from his game, but he must regain it quickly if he is to get his bright career back on track.
For the price paid, PSG will be expecting a decisive star who can help them compete with Europe's best. Draxler has a great deal to do to prove his critics wrong, make Arsenal, PSG and Real Madrid regret coming back in for him and justify that £30m price tag.