The time has come to crown the kings of South America. Brazil's Gremio and Lanus of Argentina play the first leg of the Copa Libertadores final on Wednesday, the culmination of another edition of one of the world's most competitive, gruelling club competitions. 
Gremio 4/11 to beat Goianiense
Both teams have impressed on their way to the showpiece tie, with Lanus in particular performing a minor miracle in coming back from three goals behind to down giants River Plate in the last four. But Gremio might just have a secret weapon: 21-year-old Arthur Melo, whose talents in the middle of the field have led to early comparisons with none other than Andres Iniesta and gained attention from some of Europe's biggest clubs. 
A native of Goiania, Arthur moved to Porto Alegre at the tender age of 14 to join the Tricolor's famed youth system. It was in 2017, however, that the diminutive midfielder would make the breakthrough. A brilliantly measured performance in his Libertadores debut against Guarani propelled him into the starting line-up and he has since made the spot his own, barely missing a game in the Brazilians' run to their first final since going down to Boca Juniors in 2007.
The youngster does not make the headlines for his goalscoring exploits or fancy tricks. Instead, in the vein of an Iniesta or Mesut Ozil, his great strength lies in an uncanny ability to spot the right pass and execute perfectly. At just 5'8″ he is also a dead ringer physically for the Barcelona idol, and similarly capable of those startling bursts past defenders that Iniesta uses to such great effect to shrug off the attentions of markers.
Fellow hot talent Luan is one of the players who has benefitted from his team-mate's incredible rise to the first team; as has Lucas Barrios, the veteran Paraguay international still hitting the net on a regular basis for his club at 33. While the statistics say Arthur has contributed a solitary assist to Gremio's Libertadores campaign, that number hides his importance in getting his team moving in the middle, even if he is not charged with delivering the final killer pass. 
Since coming under the wing of Gremio legend Renato Gaucho, a Libertadores winner as a player in 1983 and now in his third spell as coach, Arthur is also learning how to become a more decisive presence in the opposition area. "I'm a player who likes to have the ball at my feet, and organise play," he explained to reporters.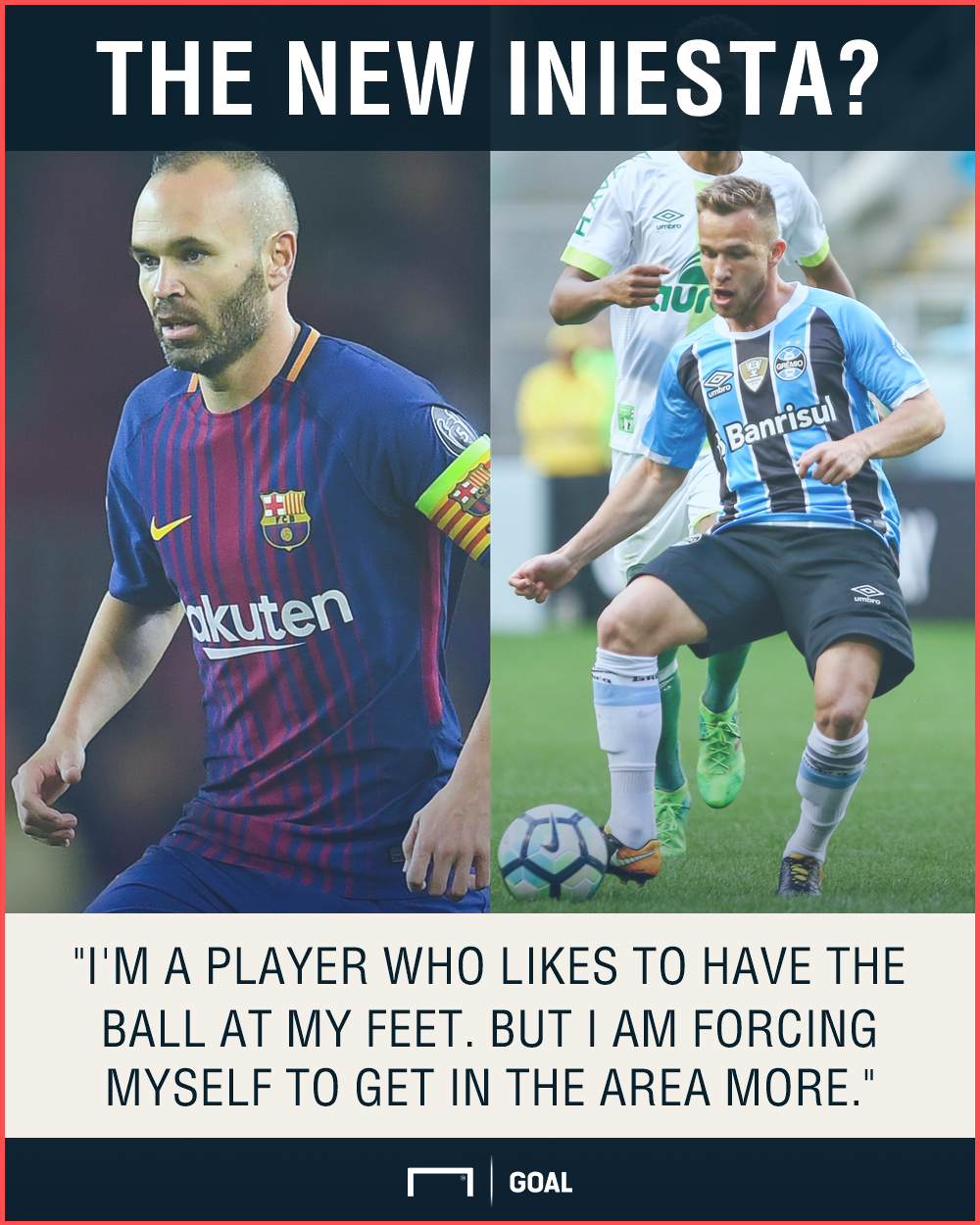 "As a defensive midfielder I see more of the ball, further back. But as a playmaker Renato is forcing me to get into the area, reach the goal and try to score, as well as thread the ball through. I am also forcing myself to support the attackers and wingers. I think that is where the difference has come, I am trying to get into the area more to feed those up front."
Such potential has not gone unnoticed. The likes of Manchester United, Man City and Chelsea have been linked with Arthur, as have Atletico Madrid and Barcelona. Brazil coach Tite has also noticed the talented midfielder, calling him up to the Selecao for September's World Cup qualifiers, although he did not see any playing time. 
Gremio, however, are unlikely to let their gem leave without a fight. Arthur is under contract at the Arena do Gremio until January 2019, and the Brazilians will not consider any bid shy of 10 million as a starting point for negotiations. They would be well-advised to hold out for more: midfielders of his assurance and intelligence at such a young age are few and far-between, and if Luan leaves for Europe in the new year that will further reduce the pressure to sell until Arthur has another season under his belt and has proved he is not a flash in the pan. 
The player's agent Jorge Machado, in any case, denied any official bid had been tabled for his young client, while admitting to Globoesporte that there was "speculation" around his future. 
That interest means pressure will be intense on Wednesday. There have been signs in recent weeks that after such an impressive breakout season fatigue was beginning to catch up on Arthur, whose performances have dipped noticeably. He will also be up against an opponent in Lanus that will have no intention of respecting his young talent if it threatens to end their dreams of a first Libertadores crown. 
The Granate will press and harry Arthur from the first minute and while Jorge Almiron's collection of Primera journeymen do not possess Gremio's star value, the likes of Ivan Marcone, Roman Martinez and Lautaro Acosta are hard, seasoned performers who will not give the Brazilians a moment's rest. 
It is a formidable challenge for a player with less than 50 professional appearances under his belt. But Arthur has a golden opportunity to show he can live up to the hype, and those Iniesta comparisons – and what better way to do so than by bringing home the Libertadores for Gremio and aping the success of Barcelona's passing wizard.
Let'