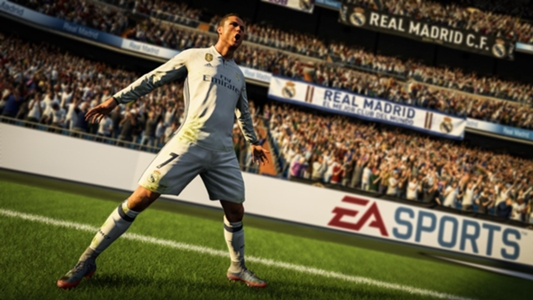 The 2018 eFootball League has now begun the PS4 division of their tournament with 16 teams battling for a chance to win the £10,000 prize.
The tournament include some of the best FIFA eSport players from across Europe and is being broadcast exclusively by Goal on Facebook, YouTube and Twitch.
To watch this week's action, catch the weekly highlights show every Thursday 20:00 GMT (15:00 US East Coast) from March 8 all the way through to the finals, which will be broadcast live from an Eredivisie football stadium in April.
The results and tables from the group phase are listed below, along with the fixtures for all group games.
---
Group tables – PS4 Divisions
---
Group A 
| Pos | Team | P | F | A | GD | Pts |
| --- | --- | --- | --- | --- | --- | --- |
| 1 | DrErhano (Team VfB Stuttgart) | 1 | 2 | 0 | 2 | 3 |
| 2 | Dani_Fink96 (VfL Bochum) | 1 | 1 | 1 | 0 | 1 |
| 3 | FUTWIZTom (FUTWIZ) | 1 | 1 | 1 | 0 | 1 |
| 4 | KoenWeijland (AFC Ajax) | 1 | 0 | 2 | -2 | 0 |
Group B
| Pos | Team | P | F | A | GD | Pts |
| --- | --- | --- | --- | --- | --- | --- |
| 1 | YimmieHD (Feyenoord) | 1 | 7 | 3 | 4 | 3 |
| 2 | emreRiv9 (Space Soldiers) | 1 | 3 | 2 | 1 | 3 |
| 3 | TimoX08 (VfL Wolfsburg) | 1 | 2 | 3 | -1 | 0 |
| 4 | PaskieRokus (SBV Vitess) | 1 | 3 | 7 | -4 | 0 |
Group C
| Pos | Team | P | F | A | GD | Pts |
| --- | --- | --- | --- | --- | --- | --- |
| 1 | isopowerr (Futbolist) | 1 | 4 | 0 | 4 | 3 |
| 2 | Lev_Vinken (Sparta Rotterdam) | 1 | 1 | 1 | 0 | 1 |
| 3 | Cyasarla (RB Leipzig) | 1 | 1 | 1 | 0 | 1 |
| 4 | FIFA_Fredberg (Brondby) | 1 | 0 | 4 | -4 | 0 |
Group D
| Pos | Team | P | F | A | GD | Pts |
| --- | --- | --- | --- | --- | --- | --- |
| 1 | aaygun96 (PSV) | 1 | 5 | 2 | 3 | 3 |
| 2 | ElTenTweIve (Aerox) | 1 | 2 | 0 | 2 | 3 |
| 3 | LabotryasKyiv (FC Dynamo Kyiv) | 1 | 0 | 2 | -2 | 0 |
| 4 | KlNGEP (PEC Zwolle) | 1 | 2 | 5 | -3 | 0 |
Group E
| Pos | Team | P | F | A | GD | Pts |
| --- | --- | --- | --- | --- | --- | --- |
| 1 | Official_STYLO (FOCUS CLAN) | 1 | 5 | 3 | 2 | 3 |
| 2 | TomHeijnen95 (Roda JC Kerkrade) | 1 | 4 | 3 | 1 | 3 |
| 3 | Marcuzo45 (Manchester City) | 1 | 3 | 4 | -1 | 0 |
| 4 | NEYSK11L (FC St. Gallen) | 1 | 3 | 5 | -2 | 0 |
Group F
| Pos | Team | P | F | A | GD | Pts |
| --- | --- | --- | --- | --- | --- | --- |
| 1 | florisacm (Team Gullit) | 1 | 4 | 0 | 4 | 3 |
| 2 | TonyKokNL (FC Twente) | 1 | 6 | 5 | 1 | 3 |
| 3 | Zimmeghj (AS Roma FNATIC) | 1 | 5 | 6 | -1 | 0 |
| 4 | LOSC_Sneaky (Lille OSC) | 1 | 0 | 4 | -4 | 0 |
Group G
| Pos | Team | P | F | A | GD | Pts |
| --- | --- | --- | --- | --- | --- | --- |
| 1 | M4RV_ (Bayer 04 Leverkusen) | 1 | 3 | 0 | 3 | 3 |
| 2 | bryanhessing (Heracles Almelo) | 1 | 1 | 1 | 0 | 1 |
| 3 | MenceFIFA (Epsilon) | 1 | 1 | 1 | 0 | 1 |
| 4 | stefanopinna21 (ECV Sport) | 1 | 0 | 3 | -3 | 0 |
Group H
| Pos | Team | P | F | A | GD | Pts |
| --- | --- | --- | --- | --- | --- | --- |
| 1 | xL_Kev96 (exceL) | 1 | 3 | 1 | 2 | 3 |
| 2 | CodyderFinisher (FC Basel) | 1 | 4 | 3 | 1 | 3 |
| 3 | absalomwarkor (FC Groningen) | 1 | 3 | 4 | -1 | 0 |
| 3 | AristoteNdunu (AZ) | 1 | 1 | 3 | -2 | 0 |
---
Week One results
---
| Home | Away | Result |
| --- | --- | --- |
| KoenWeijland (AFC Ajax) | DrErhano (Team VfB Stuttgart) | 0-2 |
| FUTWIZTom (FUTWIZ) | Dani_Fink96 (VfL Bochum) | 1-1 |
| PaskieRokus (SBV Vitess) | YimmieHD (Feyenoord) | 3-7 |
| emreRiv9 (Space Soldiers) | TimoX08 (VfL Wolfsburg) | 3-2 |
| isopowerr (Futbolist) | FIFA_Fredberg (Brondby) | 4-0 |
| Cyasarla (RB Leipzig) | Lev_Vinken (Sparta Rotterdam) | 1-1 |
| ElTenTweIve (Aerox) | LabotryasKyiv (FC Dynamo Kyiv) | 2-0 |
| KlNGEP (PEC Zwolle) | aaygun96 (PSV) | 2-5 |
| NEYSK11L (FC St. Gallen) | Official_STYLO (FOCUS CLAN) | 3-5 |
| Marcuzo45 (Manchester City) | TomHeijnen95 (Roda JC Kerkrade) | 3-4 |
| Zimmeghj (AS Roma FNATIC) | TonyKokNL (FC Twente) | 5-6 |
| LOSC_Sneaky (Lille OSC) | florisacm (Team Gullit) | 0-4 |
| M4RV_ (Bayer 04 Leverkusen) | stefanopinna21 (ECV Sport) | 3-0 |
| MenceFIFA (Epsilon) | bryanhessing (Heracles Almelo) | 1-1 |
| AristoteNdunu (AZ) | xL_Kev96 (exceL) | 1-3 |
| CodyderFinisher (FC Basel) | absalomwarkor (FC Groningen) | 4-3 |
---
Week Two fixtures
---
| Home | Away | Result |
| --- | --- | --- |
| KoenWeijland (AFC Ajax) | Dani_Fink96 (VfL Bochum) |   |
| DrErhano (Team VfB Stuttgart) | FUTWIZTom (FUTWIZ) |   |
| PaskieRokus (SBV Vitess) | TimoX08 (VfL Wolfsburg) |   |
| YimmieHD (Feyenoord) | emreRiv9 (Space Soldiers) |   |
| isopowerr (Futbolist) | Lev_Vinken (Sparta Rotterdam) |   |
| FIFA_Fredberg (Brondby) | Cyasarla (RB Leipzig) |   |
| ElTenTweIve (Aerox) | aaygun96 (PSV) |   |
| LabotryasKyiv (FC Dynamo Kyiv) | KlNGEP (PEC Zwolle) |   |
| NEYSK11L (FC St. Gallen) | Marcuzo45 (Manchester City) |   |
| Official_STYLO (FOCUS CLAN) | TomHeijnen95 (Roda JC Kerkrade) |   |
| Zimmeghj (AS Roma FNATIC) | florisacm (Team Gullit) |   |
| TonyKokNL (FC Twente) | LOSC_Sneaky (Lille OSC) |   |
| M4RV_ (Bayer 04 Leverkusen) | bryanhessing (Heracles Almelo) |   |
| stefanopinna21 (ECV Sport) | MenceFIFA (Epsilon) |   |
| AristoteNdunu (AZ) | absalomwarkor (FC Groningen) |   |
| xL_Kev96 (exceL) | CodyderFinisher (FC Basel) |   |
---
Week Three fixtures
---
| Home | Away | Result |
| --- | --- | --- |
| KoenWeijland (AFC Ajax) | FUTWIZTom (FUTWIZ) |   |
| DrErhano (Team VfB Stuttgart) | Dani_Fink96 (VfL Bochum) |   |
| PaskieRokus (SBV Vitess) | emreRiv9 (Space Soldiers) |   |
| YimmieHD (Feyenoord) | TimoX08 (VfL Wolfsburg) |   |
| isopowerr (Futbolist) | Cyasarla (RB Leipzig) |   |
| FIFA_Fredberg (Brondby) | Lev_Vinken (Sparta Rotterdam) |   |
| aaygun96 (PSV) | LabotryasKyiv (FC Dynamo Kyiv) |   |
| KlNGEP (PEC Zwolle) | ElTenTweIve (Aerox) |   |
| NEYSK11L (FC St. Gallen) | TomHeijnen95 (Roda JC Kerkrade) |   |
| Marcuzo45 (Manchester City) | Official_STYLO (FOCUS CLAN) |   |
| Zimmeghj (AS Roma FNATIC) | LOSC_Sneaky (Lille OSC) |   |
| TonyKokNL (FC Twente) | florisacm (Team Gullit) |   |
| bryanhessing (Heracles Almelo) | stefanopinna21 (ECV Sport) |   |
| MenceFIFA (Epsilon) | M4RV_ (Bayer 04 Leverkusen) |   |
| AristoteNdunu (AZ) | absalomwarkor (FC Groningen) |   |
| CodyderFinisher (FC Basel) | xL_Kev96 (exceL) |   |
---
Last 16
---
| Home | Away | Result |
| --- | --- | --- |
| Group A winner | Group B runner up |   |
| Group B winner | Group A runner up |   |
| Group C winner | Group D runner up |   |
| Group D winner | Group C runner up |   |
| Group E winner | Group F runner up |   |
| Group F winner | Group E runner up |   |
| Group G winner | Group H runner up |   |
| Group H winner | Group G runner up |   |
---
Semi-finals 
---
The four semi-finalists from the PS4 division will then play against each other until a finalist is found. They will need play against the winner of the Xbox division. Both the Xbox finalist and the PS4 finalist will play a two-legged match incorperating both platforms. The four finalists from the Xbox divsion are: 
Xbox division finalists
Emrebenli_7 (FC Twente)
MegaBit98 (VFL Bochum)
LevyFrederique (SBV Excelsior)
proownezyt (FOKUS CLAN)
Let'