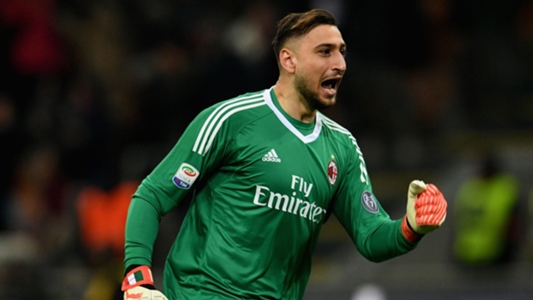 Coral reports that AC Milan intend to keep Gianluigi Donnarumma for the foreseeable future, despite reports linking the club with Napoli goalkeeper Pepe Reina.
Donnarumma has been heavily linked with a move away from the Serie A giants, with Chelsea and Real Madrid both touted as potential suitors.
However, Massimiliano Mirabelli, the club's sporting director, insists Milan have no inclination to allow the 19-year-old to leave the club, despite their exit from the Europa League.
Milan lost 5-1 on aggregate to Arsenal over two legs, leaving the club with only Serie A as an avenue for qualification to next season's Champions League.
"Apart from his mistake, he played a great game tonight," Mirabelli told reporters.
"We want him to stay with us for a long time. He's a gem of ours and the whole of Italy, and we're keeping a tight grip on him."
Reina is expected to join Milan in the summer and reports claim that the former Liverpool goalkeeper has already undergone a medical.
Donnarumma has been capped four times by Italy, and has made a total of 113 Serie A appearances.
Italy will have four places in the Champions League next season, with Milan currently in sixth position, five points behind fourth-placed Lazio.
Milan do have a game in hand on Lazio and face Chievo at home on Sunday in their next game in the quest to qualify for the Champions League.
He began his career with Milan in 2015, becoming the second-youngest goalkeeper ever to debut in Serie A, aged 16 years and 242 days; he immediately broke into the starting line-up, earning a reputation as one of the most promising young goalkeepers in the world. He also broke the record as the youngest Italy under-21 player ever to play, aged 17 years and 28 days in March 2016. Six months later, he made his senior international debut, becoming the youngest goalkeeper ever to appear for Italy, aged 17 years and 189 days.
Donnarumma grew up in the football academy of Club Napoli in his native Castellammare di Stabia. At age 14, he was signed for €250,000 by Milan, the team for which his elder brother, Antonio, had already played. Between 2013 and 2015, he was part of the Rossoneri youth academy, where he always played in the age group above him, beginning with the Giovanissimi, then the Allievi, and finally the Primavera. Three days before his 16th birthday, in February 2015, he received his first call-up to the senior team from manager Filippo Inzaghi; though he did not feature in the league match against Cesena, his presence on the substitutes' bench had required a special dispensation due to his age.
On 15 June 2017 it was initially announced that Donnarumma would not be renewing his contract with Milan, however on 11 July, after much speculation, he renewed with Milan until 2021.
Donnarumma was born in Castellammare di Stabia in the Province of Naples, the son of Alfonso and Marinella. His older brother, Antonio, also came through Milan's youth system as a goalkeeper, and is currently his teammate as well. Since childhood, he has supported Milan, although he grew up idolising Gianluigi Buffon.