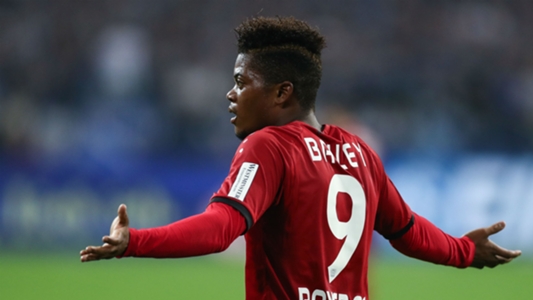 Sven Bender has urged Leon Bailey to stay at Bayer Leverkusen, amid repeated links with the likes of Manchester United and Chelsea.
Bailey has exploded this season, scoring nine goals and providing five assists in 24 Bundeslliga appearances.
The Jamaica Under-23 international has subsequently been heavily linked with a move to the Premier League, but said in February that he would be comfortable making United and Chelsea wait as he looks to make his name in Germany.
And defensive midfielder Bender, who is an awe at the speed of the 20-year-old winger, believes he is right to remain at Leverkusen for the foreseeable future.
Speaking exclusively to Goal, Bender said: "He has got special abilities, he is incredibly fast and great at dribbling. But we did not expect that he would explode that fast. This example shows that football is a fast-paced business.
[embedded content]
"It is important that he handles the hype around him correctly and does not want too much too fast. Now everybody comes to him and suddenly wants something from him.
"He is only 20 years old and therefore still has development potential. He is a great player and will probably leave one day for a high fee, but I wish him to stay with us for a long time."
While claiming Bailey would command a large fee, Bender has bemoaned the amount of money swilling around football.
"Of course the sums are very high at the moment," he added. "If someone is willing to pay this money for a football player, it is okay. You can't blame the player for costing a lot of money. It is a question of supply and demand.
"It is a little bit unreal and far from reality. I hope someday it will find an end."
Another supremely talented winger, Ousmane Dembele, has departed the Bundesliga, leaving Borussia Dortmund to join Barcelona in a £96.8 million deal.
"Football sometimes develops in the wrong direction," Bender added on Dembele.
"These young players have the big dream to play for a top club. And maybe they think it is the only chance to make that move as soon as possible. But you have signed the contract with your current club. It has something to do with fairness and respect for the club you're playing for. There are measures taken, such as strikes that do not belong there."
Let'