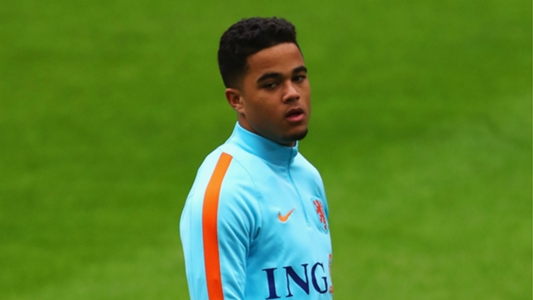 ---
Mourinho wants Kluivert at Man Utd
---
Jose Mourinho is eyeing a summer move for Ajax's Justin Kluivert, The Guardian reports.
The 19-year-old has impressed in his first full season with the Eredivisie giants, attracting interest from several teams across Europe.
And Mourinho hopes United make a head start on luring the forward by making a bid when the transfer window opens.
---
D.C. United confirm Rooney interest
---
D.C. United head coach Ben Olsen has confirmed the MLS side's interest in Wayne Rooney.
The England international has been in talks with United less than a year after his return to boyhood club Everton, but Olsen says the deal has not been finalized.
"Certainly, the deal is not done," he told TMZ.  "Obviously, there is some interest from our end." 
Read the full story here
---
Chelsea to swap Kante for Asensio
---
Chelsea are willing to do anything to sign Marco Asensio from Real Madrid, even if it means giving up N'Golo Kante for him, according to Don Balon .
The Spaniard is Roman Abramovich's top target for the summer and are willing to offer a star player in exchange for him.
Madrid are said to have turned their interest away from Eden Hazard and towards Neymar, so Chelsea will instead put their midfield hero Kante into the deal instead.
---
Griezmann holds showdown talks with Atletico
---
Antoine Griezmann's representatives held talks with Atletico Madrid over the striker's future, says Mundo Deportivo .
Although the striker had hinted to the club that he wants to leave to join Barcelona, he is considering turning back on that decision and remaining with Atletico.
On Friday, his lawyers met with Madrid's hierarchy to discuss the legal implications over his next move.
---
Lazio want Arsenal's Lucas Perez
---
Lazio will look to sign Lucas Perez from Arsenal in the next transfer window to replace Nani, Tuttomercatoweb  claims.
Nani has played a limited role since joining the Serie A side on loan but will return to Valencia next season. 
Looking for another winger, Lazio believe Perez, who is on loan at Deportivo, will be the ideal affordable option.
---
Mancini to take Italy job
---
Roberto Mancini will leave his job as Zenit St Petersburg to take the helm of the Italy national team,  Corriere della Serra  reports.
With two years left on his contract, the former Inter and Manchester City boss will resign from the Russian side, with the announcement expected on Monday.
Mancini will replace Azzurri caretaker boss Luigi Di Biagio as they look to recover from their failure to qualify for the World Cup. 
---
Juve & Napoli want Perin – Genoa chief
---
Juventus and Napoli have both enquired about Genoa goalkeeper Mattia Perin, the club's president has admitted.
Almost seven years after he made his first appearance for the Italian side, the 25-year-old shot stopper has been linked with a step up and is attracting the best in the country.
"In the last league meeting in Rome, Juventus director Giuseppe Marotta stopped me and said we have to talk about Mattia," Enrico Preziosi told Corriere dello Sport . "I'm waiting for a phone call to sit down at a table.
"Juventus, among others, must hurry because Napoli want him too and soon the negotiations could start."
---
Guardiola wants long Sterling stay
---
Pep Guardiola hopes to see Raheem Sterling remain at Manchester City for years to come.
The 23-year-old attacker has apparently put contract talks with the club on hold as he closes an excellent campaign, but his manager does not expect him to be on the way out.
Click here to see what Guardiola had to say
---
Liverpool join Malcom chase
---
Liverpool have become the latest Premier League club to join the hunt to sign Bordeaux attacker Malcom, claims the Daily Mail .
The 21-year-old Brazilian is the latest young attacker to land on the Reds' shortlist, joining Borussia Dortmund's Christian Pulisic and Bayer Leverkusen's Leon Bailey.
Malcom, who is thought to command a fee around £40 million, also has reportedly drawn interest from Manchester United, Tottenham and Arsenal.
---
Rooney to become one of MLS' highest paid players
---
Wayne Rooney is set to become one of Major League Soccer's highest paid players should he join D.C. United, reports the Washington Post .
Rooney would stand to make anywhere between $5 million and $8m a season (£3.7m/£6m), while the top earner in MLS this season, Sebastian Giovinco, makes $7.1m (£5.2m) per season.
The basics for a deal have been agreed to between Rooney and D.C. United, though incentives and a transfer fee with Everton still need to be hammered out.
The deal is not done however and while the MLS side appear to be the favorite, teams from the Chinese Super League could still enter the mix.
---
Man City lead Jorginho chase
---
Napoli are willing to sell midfielder Jorginho and Manchester City are the frontrunners to be the beneficiaries, reports the Daily Mail .
The Serie A side are willing to part with the Italy international for £53 million ($72m) and City, who have monitored the midfielder all season, thought to be in the lead for his services.
Arsenal, Manchester United and Tottenham are also in the mix, with Liverpool expected to be lurking as well.
Let'