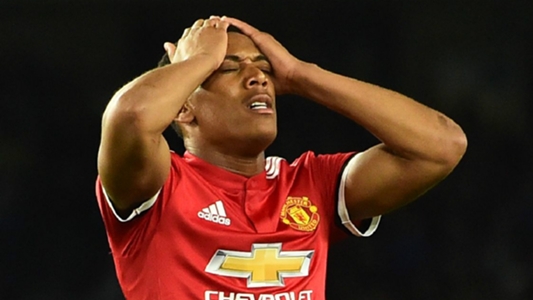 Manchester United claim Anthony Martial sustained an injury in training, and has subsequently been forced to miss the club's final game of the season against Watford.
Jose Mourinho claimed earlier this week that Martial would play against the Hornets, having sat out Thursday's 0-0 draw with West Ham.
However, reports surfaced prior to kick-off claiming that the France international, who has completed 90 minutes just six times in the Premier Leage this season, drove away from Old Trafford at noon.
United have now published a statement on their website revealing the reason for Martial's omission.
"Martial wasn't in the 17 on duty after picking up an injury, which forced him to sit out Saturday's training session," reads the article.
[embedded content]
Martial has been heavily linked with a move away from Old Trafford this summer, with the likes of Juventus, Tottenham and Chelsea all believed to be interested in securing his signature.
Mourinho has made a total of nine changes to the XI ahead of next week's FA Cup final against Chelsea, with Michael Carrick captaining the team on his final appearance for the club.
"The [cup final] is next Saturday so I'm not concerned about that. I've made lots of changes in the team not because of that," Mourinho said.
"I've done it because I think in these last few matches of the season everyone deserves a start. Marcos Rojo, Daley Blind and Matteo Darmian, they deserve it. That's why I haven't brought in any young players because my players deserve that. 
"Sergio Romero is another one; he's still trying to get a position in the World Cup so it's for them, it's for Michael [Carrick]. But as I always say, even if you are not fighting for anything – because we are second even if we win or lose – we are playing to try to win a football match."
Mourinho has also confirmed that Carrick will be substituted during the game, to ensure he is given a send-off by the club's fans.
"I don't think Michael knows how to play bad," Mourinho said. "I know he's going to do a good job for his team. I'm not sure if he can do it for 90 minutes, but even if he can, I will bring him off so he can come off on his own.
"I will have Herrera or Pogba to replace him and he can leave the pitch on his own. That's for him and the fans."
Let'