Bayern Munich maintain that Real Madrid have made no approach for Robert Lewandowski, with CEO Karl-Heinz Rummenigge having held two meetings with the Blancos without the subject arising.
The prolific Poland international striker has long been linked with a move to Santiago Bernabeu , with those in the Spanish capital forever in the market for players of his ability and profile.
Bayern have, however, been able to fend off any interest to ensure that they continue to be the ones benefitting from a man who has netted 150 times across four seasons at the Allianz Arena .
It is their intention to still have Lewandowski leading the line in 2018-19, with Real yet to offer any indication that they will be looking to lure the 29-year-old to pastures new when the summer transfer window opens.
Rummenigge told Muenchner Merkur when quizzed again on the forward's future: "Robert behaves completely loyal. And we don't know who sets these rumours up. And it doesn't matter at all.
[embedded content]
"Recently we had two lunches with Real Madrid's bosses and we haven't spoken a single word about Lewandowski."
Bayern have Lewandowski tied to a contract until 2021 and have shown in the past – with Franck Ribery among those to have pushed for an exit at various times – that they will not allow those agreements to be broken easily.
Rummenigge added: "The decisive factor is the duration of the contracts. And if a club can pull it off, we will.
"We've done that with Ribery. There was a lot of money being discussed. At that time he was unhappy that we closed the door to Chelsea. But now, 10 years later, he is happy."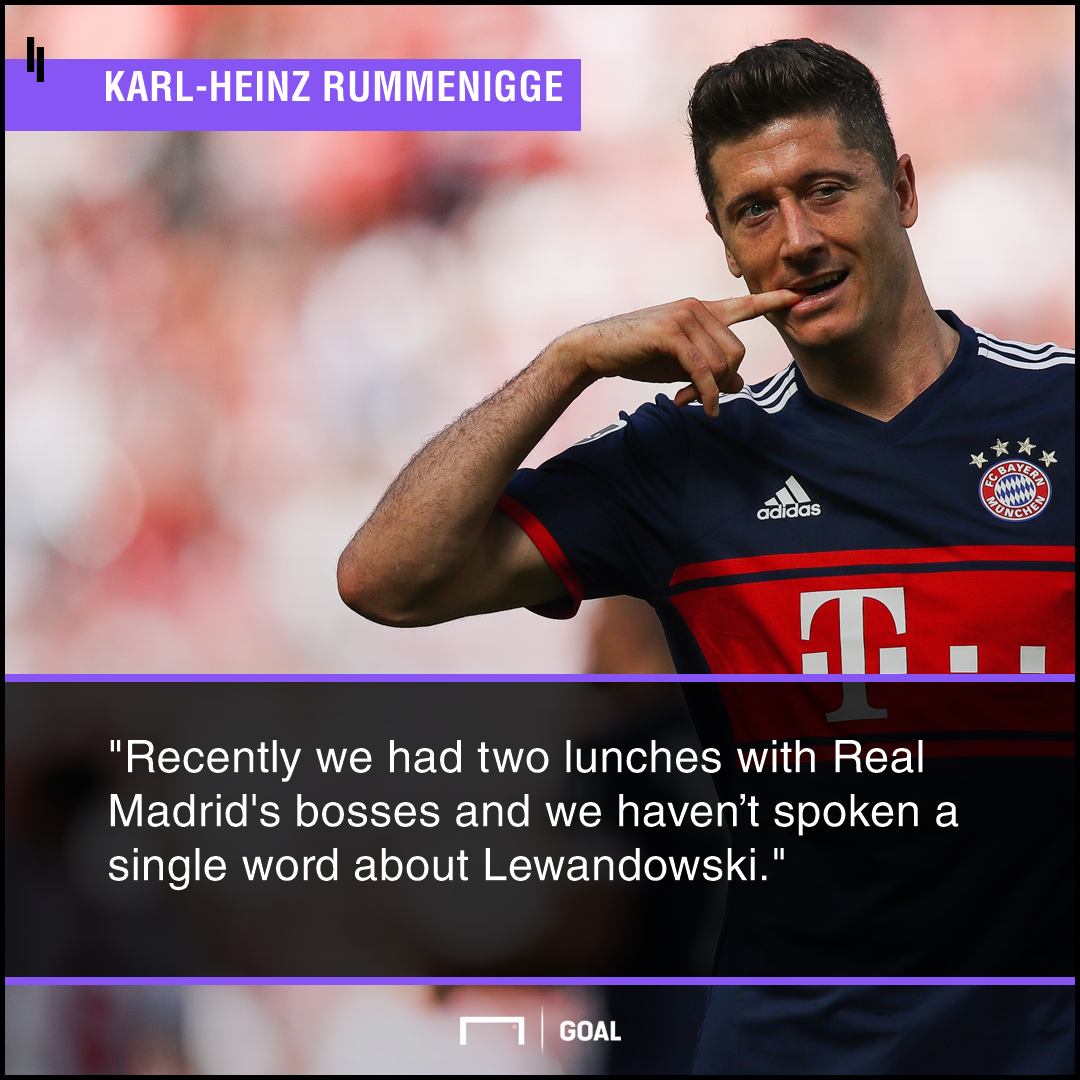 Thomas Muller is another of those to have been linked with moves elsewhere in recent times, with Manchester United among his many suitors, but once again Bayern remained unmoved when it came to potentially parting with a World Cup winner.
"Thomas is irreplaceable, a Bavarian identification figure," said Rummenigge.
"There is no price tag for him. 
"There will not be a dramatic amount of top players available this summer because the clubs that have top players do not sell them easily. If you do sell then you have the problem of having a lot of money, but the competition knows that."
Let'