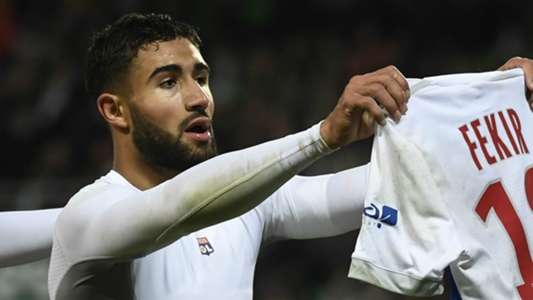 Nabil Fekir may have been heavily linked with a move to Liverpool, but the Lyon playmaker would be "happy" to see fellow countrymen on the books of Real Madrid prevail in the Champions League final.
It may be that the 24-year-old forms part of Jurgen Klopp's squad when the Reds return to European competition in 2018-19.
For now, though, no deal has been done and Fekir remains an interested observer from afar.
He insists that he will not be nailing his colours to any particular mast when checking out the action in Kiev on Saturday, but admits that he would be delighted for France international colleagues Raphael Varane and Karim Benzema were they to emerge victorious.
Fekir told reporters at a pre-World Cup training camp at Clairefontaine: "Do I have a personal favourite between Liverpool and Real for the Champions League final? No, no really not!
[embedded content]
"We have two teammates who will be playing tomorrow, Raphael Varane and Karim Benzema. May the best team win! If Real could win we would be happy for them."
It has been suggested that Fekir will be linking up with Liverpool when the summer transfer window opens, with a €70 million (£62m/ $82m) deal being mooted.
Lyon have, however, moved at regular intervals to declare that no agreement is in place.
That remains the case and Fekir is unable to shed any further light on the issue as he prepares to represent his country at World Cup 2018.
He added: "For now I am in Clairefontaine. Games are coming and I really don't have my situation on my mind.
"I will let things happen but nothing is done. I have to talk with [Lyon president] Jean-Michel Aulas and we'll see what happens next."
Let'