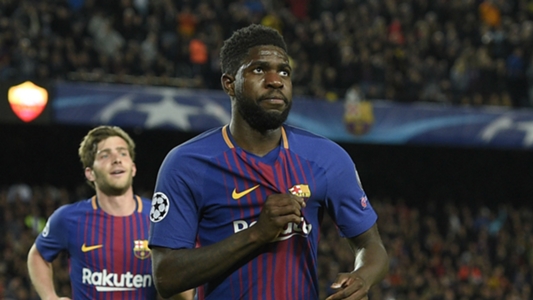 France coach Didier Deschamps has affirmed he is happy to see Samuel Umtiti dispel doubts over his future with a new Barcelona contract – but not as happy as the player's bank manager!
Umtiti had been linked with a possible move to Manchester United in the summer, but the defender has reaffirmed his commitment to Barca with a five-year extension on his deal. 
The 24-year-old believes he can now concentrate wholly on the World Cup, a sentiment that is music to the ears of his Les Bleus boss. 
"Sam will be happy, but above all his bank manager must be happy," Deschamps joked to reporters. 
"It's possibly better for his future to be resolved, some players might think they are staying in the same place but then at the end of the World Cup they move on. 
[embedded content]
"I don't know about that, that is the transfer window. It is better to have a free spirit." 
While Umtiti has renewed his link with the Catalans, a number of France stars go into the World Cup in the midst of ongoing transfer sagas. 
Antoine Griezmann has so far declined to clarify his future in the face of strong reports linking him to a Barcelona move this summer. 
Questions continue to surround Lyon's Nabil Fekir's possible move to Liverpool, while Man United midfielder Paul Pogba has seen his name linked to Real Madrid. 
Let'