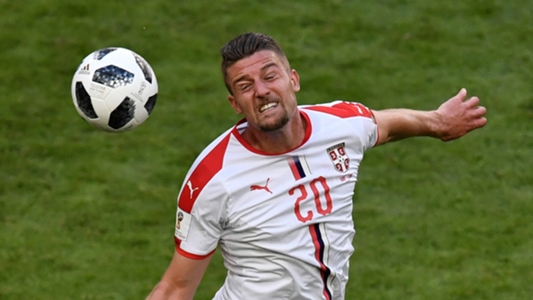 Sergej Milinkovic-Savic must show that he is "willing to die" for Manchester United if he is to move to Old Trafford, according to club icon Patrice Evra.
United have been heavily linked with the €100m-rated Serbia international, who is currently playing in the World Cup with his country.
Reports have suggested that Jose Mourinho's side are involved in a three-way battle for his signature, along with Real Madrid and Juventus, with one outlet in Italy even claiming that Real are willing to pay €150m (£131m/$174m) for his services.
Evra, though, is unsure if Milinkovic-Savic, who enjoyed a breakthrough season at Lazio , scoring 14 goals and providing nine assists in all competitions, has the required mentality to play for his former club.
Talking to ITV , for whom he is working as a pundit throughout the World Cup, he said: "I'm really careful when I talk about Manchester United, because to play for this club, it's not about your ability. You need to be a character, a personality.
[embedded content]
"To play for this club, you need to die for this club. The expectations are really huge and I'm afraid now. If you said to me 'Patrice, you will play for Man Utd, but you won't even get paid', I would play for this club.
"So, if he has that mentality – I don't ask him to say he doesn't want any money – but if he goes there and makes sure he will die for the club, I will be really happy."
Henrik Larsson, who spent a short spell on loan at United in 2007, echoed Evra's sentiments, insisting that Milinkovic-Savic did nothing to impress him during the first half of Serbia's clash with Costa Rica.
"It's so hard to say [if he has the talent to play for United]," the Swede added.
"I don't feel that he's done that much in the game so far. He's done a few interesting things, but not really made a mark in my sense.
"Costa Rica are not giving him the space to drop down where he really wants to play."
Serbia will also face Brazil and Switzerland in Group E, who play on Sunday night in Rostov.
Let'