Maurizio Sarri has declared that Eden Hazard is staying at Chelsea, with a man being heavily linked with Real Madrid tipped to become one of the best players in the world at Stamford Bridge.
The Belgium international, who has seen talk of a switch to Spain build steadily over recent years, has kept the rumour mill ticking over with non-committal comments regarding his future.
He has conceded that he considers Madrid to be a "dream" destination and feels a move to La Liga may be required in order to fulfil his Ballon d'Or ambition.
Sarri believes that Hazard is destined to join the global elite, but feels a player tied to Chelsea until 2020 should be looking to stay put and further his career in England.
The Italian, who took the Blues reins over the summer, told Corriere dello Sport of a player he may be tempted to use in a 'false nine' role again this season: "Hazard is immense and I don't think even he knows how much he can still improve. I said he could end up in the tight circle of the best three or four players in the world.
"The problem is he plays to enjoy himself and at times doesn't realise the importance of moving from fun to reaping the rewards. At the end of the day, you've got to get the fruits of your labour.
"Hazard's approach is a positive, but it can become a potential limitation too. He needs to lift his head up, look around and realise there's a whole world in front of him that he can dictate with his feet for the good of the collective and not just the individual.
"He said such kind words about me, I wasn't expecting that.
"His contract expires in 2020, but he's staying here.
"I was tempted to use Hazard as a centre-forward and I might consider it again in future, but it's not the right time now. We need to believe in Olivier Giroud and Alvaro Morata."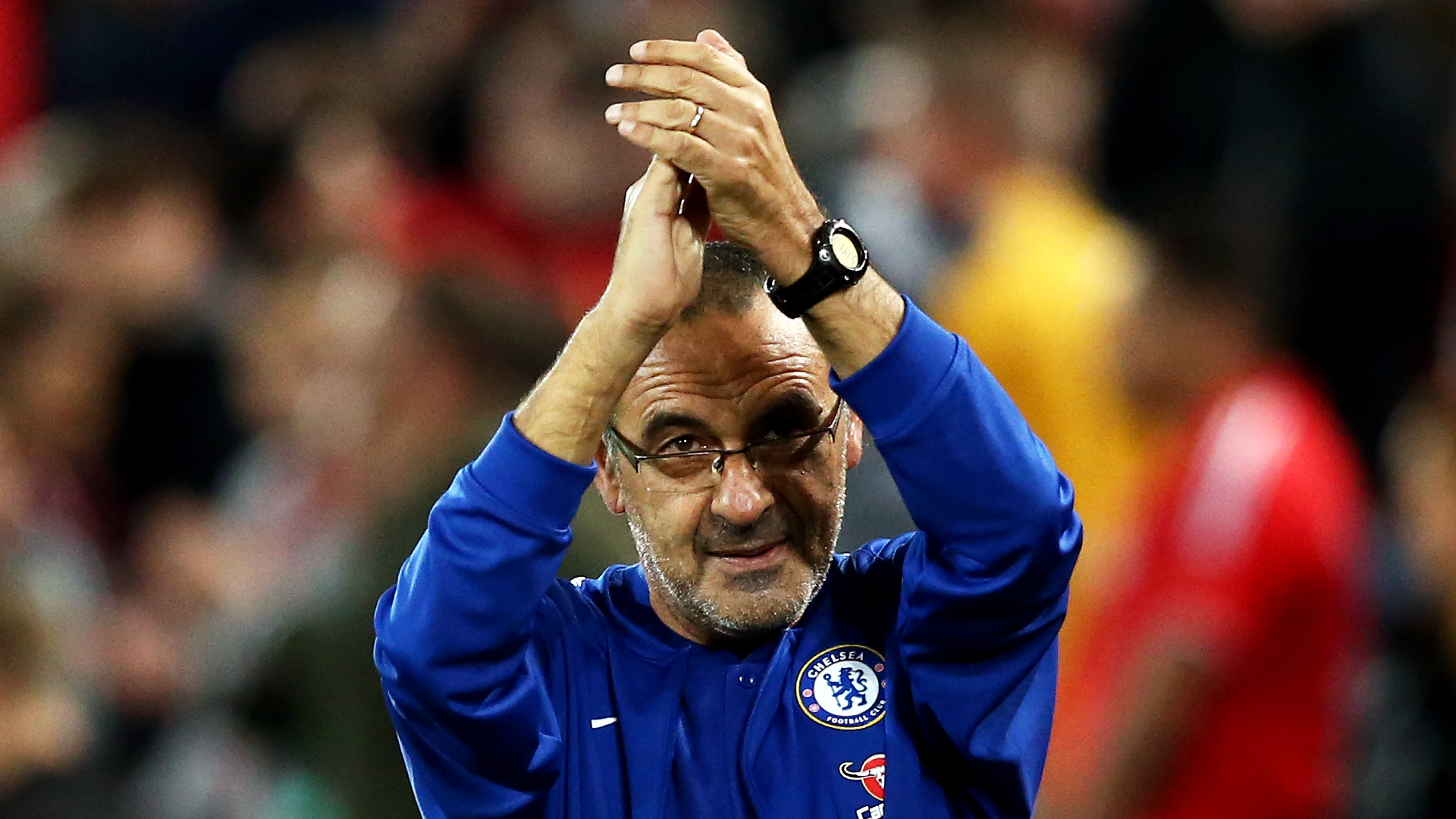 While Hazard has dominated the exit talk in west London of late, David Luiz and Cesc Fabregas have seen their respective Chelsea futures called into question.
Sarri said of two experienced performers approaching the end of their current deals: "David Luiz is a really sweet guy, exemplary and professional. Cesc Fabregas has immense quality, he returned from injury and I am proud to have him with me, as he'll give us a big hand."
All of those currently on the books at Stamford Bridge have helped the Blues to make a flying start to the 2018-19 campaign which has them sat among the Premier League frontrunners while also progressing positively in Europa League and Carabao Cup competition.
Sarri maintains that he is not yet setting title targets for his debut season in west London, but he is enjoying a new role which has seen 'Sarriball' embraced by an audience outside of his homeland.
He added: "I'd say this Chelsea side is only at 60-70 per cent capacity right now, but how much we are missing and how much we need is not the same thing. It's double that.
"The whole Sarriball thing amuses me. I don't go on social media, but I did see the fans post these videos with the most passes. If I have to be honest, the Chelsea fans aren't even sure what Sarriball means. They invented this term, pronounce it all in one word and carry on. It's very funny.
"It's a dream to be here. I walked into Stamford Bridge and hear this shout: 'Mauriziooooooo!' Then the chants, it makes you want to pinch yourself. They usually do that for those who have won, but what have I won? I couldn't believe it."
Let'