There is no doubt that Atlanta United have transformed the world of Major League Soccer since the franchise began in 2016. Eschewing the established US model of combining promising domestic talents with middle of the road players or famous stars on the way out of football, the team coached by Gerardo Martino chose a different path.
Martino has spearheaded a team committed to landing the cream of young South American prospects, packing the squad with Under-23 hopefuls in a drastic departure from the norm.
Now, with reports Atlanta's gem Miguel Almiron could be set for Arsenal, the Georgia team are looking to once more break new ground: as a stepping stone between South America and Europe for players blessed with everything it takes to break into football's elite.
Still just 24, it is easy to see why the Paraguay international has caught the eye of those in charge at the Emirates Stadium. Almiron is the epitome of a 21st-century playmaker: strong in the pass, equipped with outstanding vision and technical ability, but also with the physical attributes to match.
His finesse around the penalty area has allowed Josef Martinez to become MLS's most lethal striker. But Almiron does not just provide goals. To his 14 assists so far this season he has added a further 12 goals, meaning that in 32 league games he has participated in almost a goal a game.
Already a three-time national champion, twice with first club, Cerro Porteno of Paraguay and then in Argentina where he inspired a swashbuckling Lanus team to glory, he is an integral part of the Atlanta team that is now gunning for the MLS title as they wait for playoffs to commence in November.
Almiron's on-pitch style too marks him out as a perfect fit for Arsenal. Blink twice and you might be forgiven for seeing a South American clone of Mesut Ozil: the impossibly elegant manner he carries the ball, his wonderful mastery with both feet, neck held upright at all times like those legendary languid No.10s of old. His industry also marks him out as a natural replacement for Aaron Ramsey, widely tipped to be leaving Arsenal this summer.
Atlanta, however, will not let their star go for cheap. President Darren Eales reacted angrily to reports that Arsenal were close to a deal worth £11 million ($14.5m), and suggested the Gunners would have to up their price significantly in order to close a deal.
"So there were two clues as to why that was total nonsense: One was Eagles, not Eales," he fired to 92.9 The Game, referring to a mispelling of his surname in initial reports. "And the other was the suggestion of £11 million because it would have to take at least triple that for me to even get out of bed and think about any bids for Almiron."
Arsenal, meanwhile, have remained tight-lipped on the prospect of a move. It is also true that, no matter how good Almiron's track record has been so far, that means little in the face of the step up in quality that a move to the Premier League would entail. Nothing that the Paraguayan has faced so far in MLS compares to the heightened competition which is the norm in England's top flight, making any move by necessity a gamble on the Gunners' part.
Not that 'Miggy' is not used to pushing himself. He faced the same challenge when leaving Cerro for the vastly superior Argentine Primera Division barely out of his 20s, and took Lanus to the title within 12 months. Next came the challenge of adapting to a new culture and language thousands of miles from home in the US, and yet another unqualified success.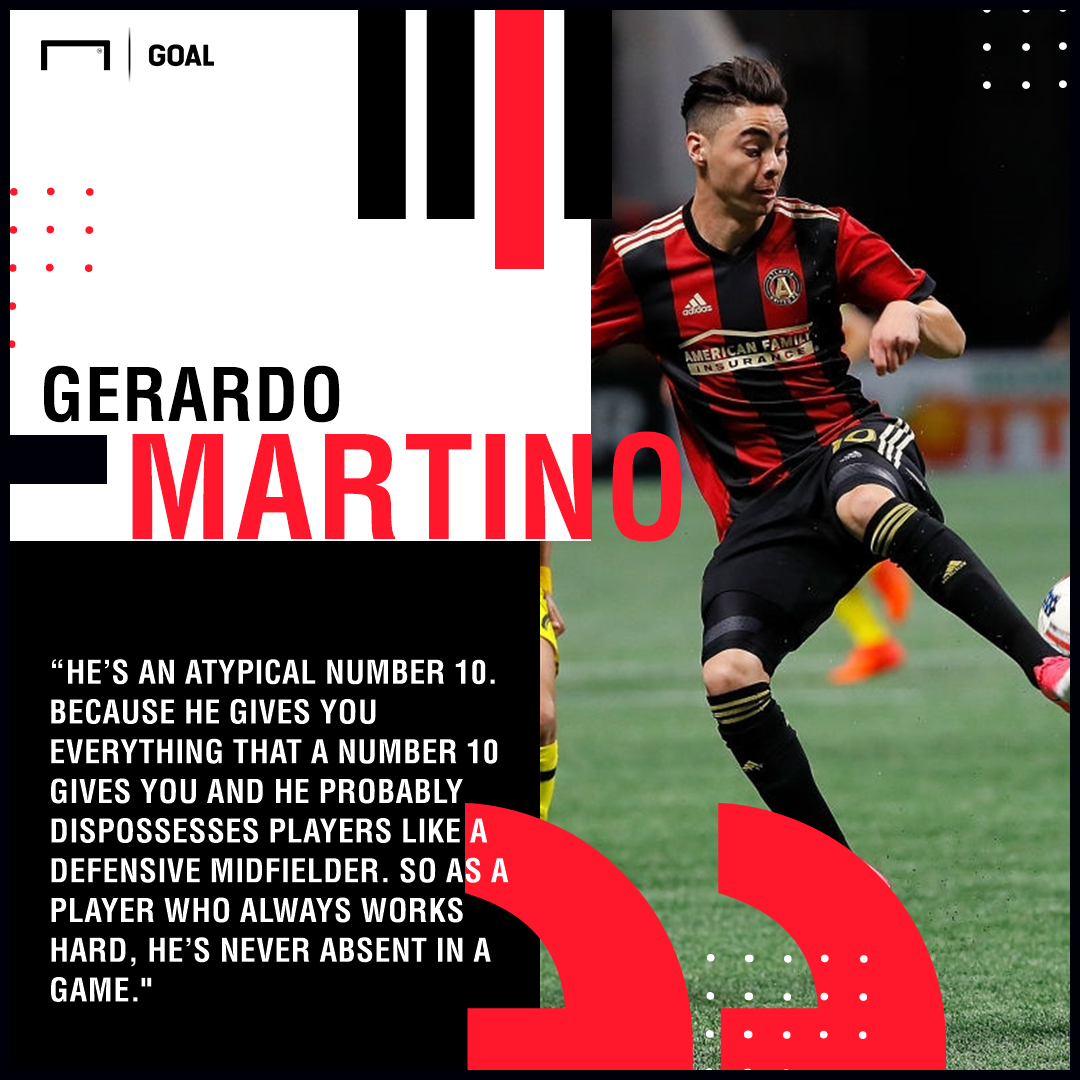 As coach Martino explains, moreover, it is not merely Almiron's outrageous statistics that mark him out as a star.
"Miguel has a commitment to the team, I'm talking about his commitment to winning the ball back, pressing, he's a player that's always working," he said to reporters.
"He's an atypical number 10. Because he gives you everything that a number 10 gives you and he probably dispossesses players like a defensive midfielder. So as a player who always works hard, he's never absent in a game, even a game where your team isn't dominating the offensive facet of the game."
It remains to be seen whether those qualities will convince Arsenal to part with over £30m. Nor is there any guarantee that, in spite of those striking similarities, Almiron will go on to enjoy a career as successful as that of the wonderful Ozil. But nevertheless, imagining that pair working in tandem in the Premier League from January onwards is a tantalising prospect, that should have all lovers of champagne football urging the Gunners to open their chequebook.
Let'