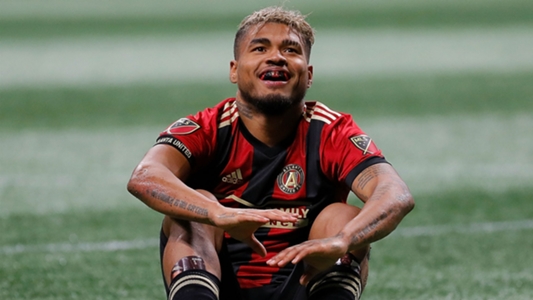 Major League Soccer Most Valuable Player Josef Martinez says he'll be staying with Atlanta United for as long as the club will have him. 
The Venezuelan set the league record for goals in a season in 2018 with 31 goals, nine better than runner-up Zlatan Ibrahimovic, and on Wednesday picked up the top individual honor in MLS.
With the individual marks in the bag Martinez is set for an MLS Cup final on Saturday against the Portland Timbers, as the second-year club looks to close a historic season in style on its home ground.
The first two years in MLS have been brilliant for the Five Stripes, with Gerardo "Tata" Martino putting together a side that has the look of a contender on day one. Martinez has been crucial to the club's high-flying attack and, along with playmaker Miguel Almiron, has helped to create one of the most potent teams in MLS history. 
The success has already led to changes, with Martino's departure after the season confirmed and all signs pointing to Almiron leaving as well. Martinez has reportedly seen his share of interest as well, with reports back in August claiming that the forward was drawing looking from Spain, England and France. 
He has now moved to put to rest any doubt about his future, claiming that he feels "at home" in Atlanta and will be with the club for as long as he is wanted.  
"I've said it before that I am going to be here as long as they want me," Martinez is quoted as saying on the league's website after picking up his MVP award. "I am happy here, I feel like I'm at home.
"I just want to say thank you to all the people at the club – the president, all the directors, everyone who works at the club from the security staff to the cooks in the kitchen, to even [club PR rep Justin Veldhuis], who I yell at when he asks me to do an interview, and everyone else at the club."
The 25-year-old also sent a heartfelt thank you to the Atlanta supporters, who have turned out in record numbers to watch the club over the last two years. 
"In my speech, I couldn't find enough words to thank the fans for the support they've given not only me, and also my family and people close to me in these two years on the field and also off the field, seeing people in the street," said Martinez.
"The support has been incredible. All these triumphs that we're having as a team, a lot of it is in great part due to the amazing support of our fans."
Let'