The 21-year-old has long been linked with a move to Camp Nou, but the Premier League champions are increasingly confident that they can outbid the Primera Division leaders
By Greg Stobart
Manchester City want to make Brazilian superstar Neymar a €57 million marquee summer signing as they prepare to battle with Barcelona for the forward's signature.
City directors Ferran Soriano and Txiki Begiristain held talks with the Neymar's representatives at Wembley on the night of England's friendly against Brazil on February 6.
THE VIEW FROM BRAZIL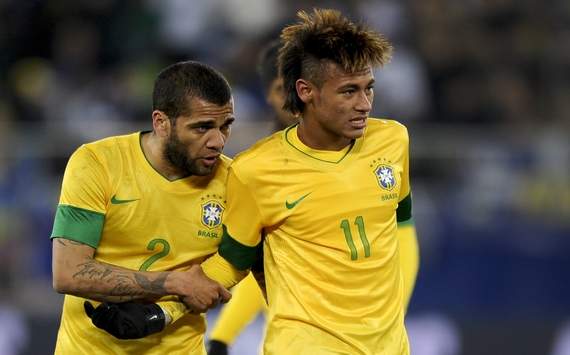 NEYMAR WORTH HIS WEIGHT IN GOLD
Luiz Alberto Moura | Goal.com Brazil
Neymar has long insisted that he is willing to stay at Santos until after the World Cup. The club are understandably willing to keep hold of a player of his undoubted talents, but also because he will be key to their marketing strategy in 2014.
Of course, Neymar is earning a considerable amount from sponsors himself. Eleven of them, to be precise, including underwear, shampoo and mobile phones. He also has a range of his own products, such as pillows, mugs and school notebooks. Indeed, 92% of his gross income comes from endorsements, with his Santos salary contributing just 8%.
Brazilian newspaper Diario de Sao Paulo suggested that Neymar earned £40m in 2012, while his father, Neymar Silva Santos, has stated that his son's earnings will supported the next five or six generations of the family.
That came six weeks after City director of football Begiristain flew to Sao Paulo for initial talks with Brazilian club Santos over a big-money move for Neymar.
Santos hope to keep the 21-year-old until after the 2014 World Cup in Brazil but are braced for summer bids, with Spanish giants Barcelona also long-term admirers of the player.
As exclusively revealed by Goal.com in January, Barca have deployed right-back Dani Alves as a secret weapon to lure his compatriot to Camp Nou, something which the player himself recently confirmed.
And reports of a multimillion pre-contract deal between Barca and Santos refuse to go away, despite constant denials from all parties.
City, however, remain hopeful of striking a deal to bring one of the hottest properties in world football to the Etihad Stadium.
The Premier League champions are looking for a marketable stellar signing and are also keeping tabs on Cristiano Ronaldo's contract situation at Real Madrid – though the Portuguese himself stated that it would be very difficult to join the club due to his ties to United.
But Neymar appears a more likely possibility, not least because Begiristain has a strong relationship with the Brazilian's father.
City also believe they have the financial muscle to outbid Barcelona both in terms of transfer fee and wages as the spiky relationship between the two clubs continues to simmer.
The Catalan giants are concerned that Soriano and Begiristain, former executives at Camp Nou, are looking to use their inside knowledge to target young players in the Blaugrana squad.
Now the two clubs are preparing to go head to head for Neymar, who has scored 70 goals in 133 games for Santos.
He is also the star of the Brazil national team having netted 17 times in 28 international appearances.